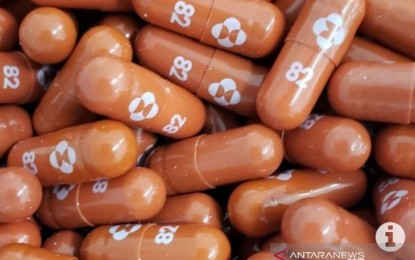 MANILA – A local pharmaceutical company is eyeing the manufacture of Molnupiravir, an oral medicine said to reduce severe symptoms of Covid-19, Department of Trade and Industry (DTI) Secretary Ramon Lopez said.
During President Rodrigo Duterte's Talk to the People Thursday night, Lopez said if it pushes through, the drug will be more accessible and affordable to Filipinos.
"If this will be locally produced, it will be affordable because it will be like generics. So that these antivirus drugs, those that will kill the virus, will be accessible to our countrymen at a lower price compared to imported ones," he said in mixed English and Filipino.
The Food and Drug Administration (FDA) has approved the Emergency Use Authorization (EUA) for Molnupiravir and injectable antiviral drug Ronapreve.
FDA Director General Oscar Gutierrez said Lloyd Laboratories applied for a certificate product registration for locally manufactured Molnupiravir on Dec. 22, 2021.
The said drug is given only to patients who have tested positive for Covid-19 and with mild and moderate symptoms.
It should not be taken for prophylactic reasons, Gutierrez added.
"It should not be a substitute for vaccination," he said.
Aside from Ronapreve and Molnupiravir, the government eyes to bring in another antiviral medicine, Paxlovid.
On January 4, Gutierrez said the Philippine government and Pfizer signed a Confidential Declaration Agreement as the pharmaceutical firm will discuss its plan to apply for EUA for Paxlovid. (PNA)