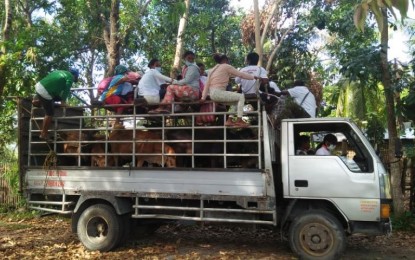 SAN JOSE DE BUENAVISTA, Antique – The indigenous peoples (IPs) in the municipality of Tobias Fornier's Barangay Igcalawagan received 14 cattle and a carabao as livelihood assistance on January 4.
"The IP beneficiaries are members of the Pantad Ati Tribe Association in Tobias Fornier," Department of Labor and Employment (DOLE) Antique provincial information officer Donnabelle Baldonado said in an interview Monday.
The assistance was in response to the proposal submitted by Barangay Igcalawagan Chairperson Rolly Noble and Ati chieftain Edna Pikuan for the cattle-fattening and carabao-raising projects from the Office of Congresswoman Loren Legarda that were endorsed to the DOLE.
"Each of the cattle costs PHP20,000 and the carabao costing PHP25,000 is funded by the Office of Legarda," she said.
Baldonado said each beneficiary receives one farm animal to be raised that is expected to augment the family income.
"The beneficiaries engaged in cattle-fattening intend to raise their farm animal so they could sell this later on, while the IP who is into carabao-raising will use the animal whenever he is hired to work in the rice field," she said.
Since the assistance is a grant, Baldonado said beneficiaries are urged to use well what had been given to them.
"We urge the beneficiaries to manage well the assistance given (to) them so the farm animals will further multiply and could greatly benefit them," she said.
She added the assistance was timely because the IPs in Tobias Fornier were among the 181 farmers in the municipality who were affected by Typhoon Odette last December 17 that left some PHP2.6 million damage on their rice crops. (PNA)