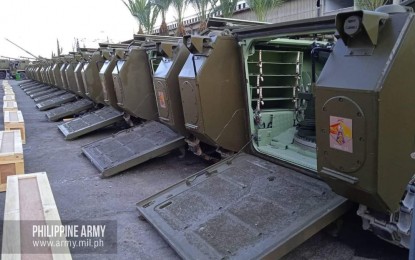 MANILA – The Philippine Army's (PA) Armor Division got a much-needed firepower boost with the delivery of 15 M125A2 armored mortar carriers (AMCs), which are equipped with 120mm mounted mortar systems (MMS).
PA spokesperson, Col. Xerxes Trinidad, said the AMCs were delivered on December 29 and were sourced from the Israeli firm Elbit Systems.
"The newly delivered 15 AMCs are for inspection within the first quarter of the year by the Technical Inspection and Acceptance Committee before acceptance and (deployment) to the Army's field units," Trinidad said in a message to the Philippine News Agency (PNA) on Monday night.
The AMCs are under Horizon Two of the Revised Armed Forces of the Philippines Modernization Program and acquired under the Army's mounted mortar acquisition project.
"The new AMCs are part of the PA's modernization project that will capacitate the country's land force's credible defense posture from various threats, local and international," he said.
The Cardom 120mm recoil mortar system mounted on the M125A2 AMC is an autonomous, computerized system that has a range of 7,000 meters and a maximum fire rate of 16 rounds per minute operated by four crewmen.
The AMCs with MMS are used by the US Army, Israeli Defense Force, and North Atlantic Treaty Organization (NATO) countries.
Meanwhile, PA chief, Lt. Gen. Romeo Brawner Jr., welcomed the arrival of the AMCs as he waits for its formal acceptance, noting that these deliveries are in line with the Army's thrusts on enhancing the capabilities of its ground forces.
"These new armor assets will bolster the Army's capability to deal with constantly evolving threats. With the realization of upcoming big-ticket modernization projects, the Philippine Army is on track to becoming a formidable and adaptive force capable of responding to a multitude of conventional and unconventional threats," he said.
Armor Division commander, Maj. Gen. Efren Baluyot, said the new assets would provide close and immediate indirect fire support for maneuver units while quickly deploying in tactical situations.
He added that more modernization projects are in the pipeline, such as the wheeled armored personnel carrier acquisition project, armored personnel carrier firepower upgrade with enclosed weapon system, and the light tank acquisition project. (PNA)