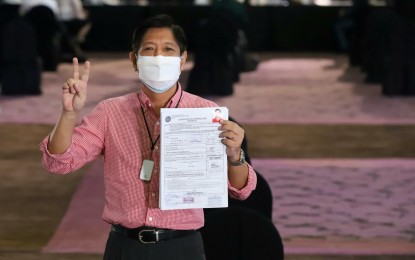 MANILA – The Commission on Elections (Comelec) is looking to hold a virtual promulgation of the decision on the disqualification cases filed against presidential aspirant Ferdinand "Bongbong" Marcos Jr. by next week.
"On or before January 17, the Comelec First Division will promulgate its Resolution on the DQ cases versus Marcos Jr. If not too risky, we will read it in the Session Hall on livestream," poll body First Division Presiding Commissioner Rowena Guanzon posted on her Twitter account, @rowena_guanzon on Tuesday.
On Monday, the division raffled off the disqualification cases against the former Senator that are deemed submitted for resolution.
"The cases are submitted for Resolution and have been assigned to a ponente," she said.
The petitions were filed by Bonifacio Ilagan and others, Akbayan party, and Abubakar Mangelen.
In the Ilagan case, the other petitioners were former lawmakers Satur Ocampo and Liza Maza. They said Marcos is not eligible to run for president since he is a convicted criminal.
The same argument was raised by Akbayan in its petition.
Mangelen, who claims to be the duly-elected chair of Partido Federal ng Pilipinas (PFP), asked the poll body to declare as null and void the Certificate of Nomination and Acceptance (CONA) issued by his group and was submitted by Marcos. (PNA)