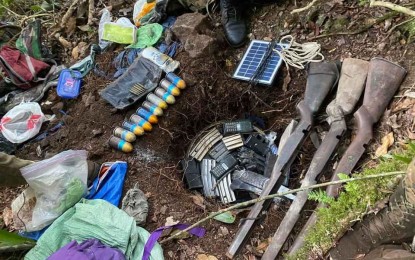 CITY OF SAN FERNANDO, Pampanga – Troops of the 84th Infantry Battalion of the Joint Task Force (JTF) Kaugnay and Philippine National Police (PNP) Provincial Office of Nueva Ecija discovered an arms cache of the New People's Army in Barangay Minuli, Carranglan, Nueva Ecija on Wednesday.
Maj. Gen. Andrew Costelo, acting commander of the Northern Luzon Command (Nolcom), said the troops were conducting peace and security efforts when a concerned resident of Barangay Minuli tipped off the location of the arms cache of the NPA, the armed wing of the Communist Party of the Philippines (CPP).
Costelo said the war materiel and communication equipment include an M203 grenade launcher, three stocks/butt plates of M14 rifle, six cartridges of 5.56mm, 10 rounds of 40mm high explosive, four long 5.56mm magazines assembly, two short 5.56mm magazines assembly, five ICOM two-way radios with a charger, a 30-liter container with rice, two keypad cell phones, and, assorted medical paraphernalia.
Col. Joseph Norwin Pasamonte, commander of the 703rd Infantry Brigade, whose area covers the province of Nueva Ecija, said the recovered items were brought to headquarters of the 84th Infantry Battalion in San Jose City, Nueva Ecija for proper documentation and disposition.
Costelo congratulated the troops on their dedication in carrying out their mandated tasks.
Since the start of this year, the Nolcom forces discovered three NPA arms and food caches.
"Nolcom will be relentless on its peace, security, and development efforts to end the local communist armed conflict in the northern Luzon. I call on the remaining members of the communist terrorist group to peacefully lay down their arms and return to the folds of the law. You are victims of the lies and deceptions of the communist terrorists. Nolcom is always here to help you to start anew," Costelo said in a statement.
The CPP-NPA is listed as a terrorist organization by the United States, the European Union, the United Kingdom, Australia, Canada, New Zealand, and the Philippines.
The Anti-Terrorism Council also formally designated the National Democratic Front as a terrorist organization on June 23, 2021, citing it as "an integral and separate part" of the CPP-NPA that was created in April 1973. (PNA)