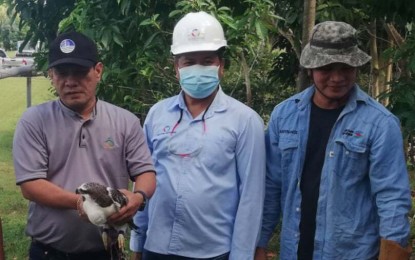 TIWI, Albay – The Philippine Geothermal Production Company, Inc. (PGPC) has handed over a rescued eagle to the Albay Provincial Environment and Natural Resources Office (PENRO).
Erwin M. Vargas, PGPC public affairs supervisor, in an interview on Wednesday, said the eagle was rescued by a local farmer within the geothermal firm's 5,087-hectare operation reserved area.
"The Philippine Geothermal is very happy because it indicates that there is habitant here when a farmer was able to rescue an eagle. The eagle, named 'Tima' for Tiwi-Malinao was in a good condition and soon be identified what kind of species is it," Vargas said.
Lorenzo Consulta Jr., 34, of Barangay Cale, said he rescued the juvenile eagle, thinking it was just an ordinary bird.
"When I was with my cow in the upland area of the forest, a bird fell from the tree and since it's a baby, I thought it was just an ordinary kind of bird," Consulta said.
However, he wondered why the bird only ate raw meat and chicken.
"My wife and I tried to feed it with bananas and other fruits but to no avail, it will not eat and we try to give meat and chicken to try, to our surprise, the eagle would hold it and eat it," he said.
Jerry Arena, Albay PENRO officer in charge, said based on the physical features and initial observation of the bird, it was deemed to be a Rufous-bellied eagle.
"We will send Tima to Albay Park and Wildlife for further observation, examination, and health assessment," he said, adding that the park has the means to "release it back in the forest".
Arena said the presence of the eagle in the area is significant in terms of biodiversity.
"It only indicates that the biodiversity here is still abundant considering that some wildlife species are still present. It only shows that the preservation is still at hand," he said.
Arena also believed that other eagles are still in the upland area since the one rescued was a baby.
Jamie Moran, Tiwi ENRO chief, said the municipality will give a token and a certificate of commendation to Consulta. (PNA)