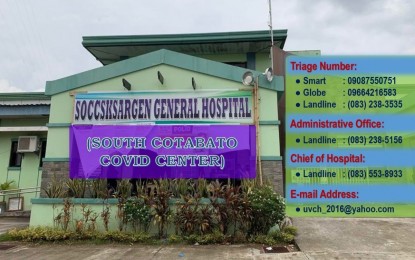 KORONADAL CITY – The Regulatory Licensing Enforcement Division (RLED) of the Department of Health – Soccsksargen (DOH-12) has given the provincial government-run Soccsksargen General Hospital (SGH) in the municipality of Surallah, South Cotabato a certificate to operate as a coronavirus disease 2019 (Covid-19) community isolation unit (CIU).
Dr. Sulpicio Henry Legaspi, DOH-12 assistant director, said Thursday the CIU certification was a pre-requisite for Philippine Health Insurance Company (PhilHealth) accreditation.
"With certificate as CIU we can apply for PhilHealth accreditation so that expenses that we incur to the patients will be refunded, the budget is PHP22,000 per patient," Legaspi said in a statement.
The CIU certification was given Wednesday by the DOH pending the signing of the usufruct agreement for the turnover of the SGH from the provincial government of South Cotabato to the DOH.
The transition process agreed by both parties to start in June 2021 did not materialize when the provincial government asked the DOH to reimburse PHP150 million that it had spent for the SGH covering the period from the signing of the memorandum of agreement (MOA) in June 2019 for its transfer and conversion into a regional hospital.
Dr. Aristides Concepcion Tan, DOH-12 director, said last year, they have no funds for the demanded reimbursement.
Legaspi said as a CIU, the SGH can still be used but they still have to wait for the ongoing renovations and repair to be completed in the next three months.
"We ask the contractor to finish the renovation earlier or less than three months," he said.
The DOH has allocated PHP70 million for the operation of the SGH in 2022, aside from the remaining PHP60 million last year that they can still use this year.
"We can use these funds to buy medicine in case of a surge," Legaspi said.
South Cotabato Governor Reynaldo Tamayo said as a primary health facility, the SGH can only accommodate mild cases of Covid-19.
Severe cases will be admitted to the Covid19 facility of the South Cotabato provincial hospital in the city.
For now, the SGH is used as a Covid-19 hospital by the South Cotabato provincial government.
Legaspi admitted that the capability of the SGH was downgraded to a primary hospital because there were requirements by the RLED that needed to be addressed first.
He, however, pointed out that once the SGH is turned over to the DOH-12, they will set things in motion for it to be accredited and licensed as a Level 1 hospital.
"I was tasked to develop a plan for a post turnover, and those plans are consistent with the plans of the provincial government," he said.
He said they have made an assessment and identified the instruments and equipment to comply with the requirements of the RLED. (PNA)