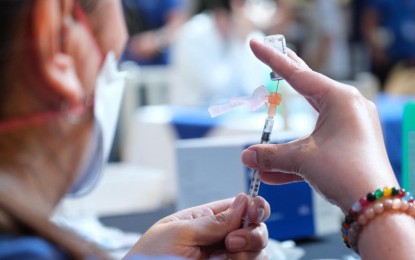 MANILA – Local pharmaceutical firm Lloyd Laboratories Inc. (LLI) is eyeing a "fill and finish" operation for a new Chinese vaccine against coronavirus disease (Covid-19) that is still undergoing clinical trials.
In a virtual media interview Thursday, LLI medical consultant Dr. Antonio Ligsay said the company has partnered with Livzon Biotech's Livzon Mabpharm, Inc. for the phase three clinical trial of the V-01, a code name for the recombinant vaccine against Covid-19.
Ligsay said the interim analysis will be concluded by the end of this month.
"Hopefully, our results will be good towards the end of the month, and if it's good, then we will apply for EUA (emergency use authorization)," he added.
Ligsay said V-01's phases one and two were conducted in China and the third phase was conducted in the Philippines, Indonesia, and Russia with a total of 21,500 respondents.
The Philippines has the largest number of subjects in the clinical trial with a total of 12,000 individuals, Ligsay said.
"The vaccine is (a) fusion protein which is very immunogenic," he said, adding that this vaccine helps the body to produce an immune response.
Ligsay said this vaccine is easier and faster to manufacture and can be produced in billion doses "in just (a) short time".
"Currently, Lloyd Laboratories has a small laboratory which is capable of the local filling of pre-filled syringes which might be a potential use for the vaccine of local filling," LLI business development director Christopher Bamba said.
In a "fill and finish" operation, the vaccine is manufactured outside the country. This means its operation will involve filling vials or syringes with vaccine and finishing the packaging process here for distribution. (PNA)