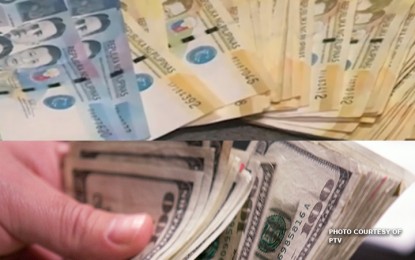 MANILA – An analyst has forecast the Philippine peso's 2022 performance to be driven by changes in the Federal Reserve's policy rates instead of trade developments, just like what happened last year.
In a report released on Thursday, ING Bank Manila senior economist Nicholas Antonio Mapa said the local currency, which was able to touch the 50-level to the dollar mid-trade this week, and the country's gross international reserves (GIR) would likely be affected more this year by monetary policy normalization in the US.
He said another surge in the coronavirus disease 2019 (Covid-19) infections, which during the day logged a record-high 34,021 new cases, contributes to the delay in the domestic economy's recovery.
Citing Philippine Statistics Authority data, Mapa said the balance of trade in goods, which is the difference between the value of exports and imports over a certain period, in November 2021 showed a record -USD4.706 billion.
Despite this, he said, the peso "held relatively firm while (the) GIR was only drawn down slightly."
"This suggests that unlike (in) 2021, the fate of the peso (and the GIR) may be driven less in part by trade developments and more by external factors related to the imminent normalization of the Federal Reserve," he added.
The Bangko Sentral ng Pilipinas (BSP) reported during the day the country's end-December 2021 foreign reserves, which totaled USD108.89 billion, based on preliminary data.
This level jumped from USD107.72 billion in the previous month and is equivalent to 10.3 months' worth of imports of goods and payments of services and primary income.
Last year's foreign reserves were, however, lower than the USD110.12 billion in 2020.
Mapa said the GIR, on the other hand, has "remained at relatively healthy levels, both from a current and historical perspective."
"Despite stark depreciation pressure on the local currency throughout the year, the central bank has managed to maintain a very decent stash of ammunition to stave off any speculative attack on the currency," he said.
While the peso remains relatively firm against the US dollar, Mapa said this may not be the case for the peso for this year as the BSP bids to keep its accommodative policy stance amid the looming Fed rate hikes.
"A policy rate hike by the likes of Jerome Powell, coupled with a pause from the Philippines, may foment a substantial change in the tides, which could leave the currency exposed to (a) financial a(nd) commensurate wave of financial outflows," he said.
Mapa said this situation "may invite speculative pressure on the peso, which (BSP Governor Benjamin) Diokno believes will stay within the government's FX (foreign exchange) assumption range of 53 on the topside."
He said if the Philippine central bank "does indeed opt to stand pat through July, we could see a busy central bank as they hope to stem 'sharp swings' in (the) volatility of the currency."
This, Mapa said, "could draw down reserves, which, although look sizable from a domestic point of view, may be drawn down progressively to invite even more to the speculative party."
"Thus, we expect (the) GIR to likely be drawn down in the next few months, mirroring the 2018 episode when PHP (Philippine peso) also came under attack after (the) BSP's RRR (reserve requirement ratio) cut during a time of accelerating inflation," he added. (PNA)