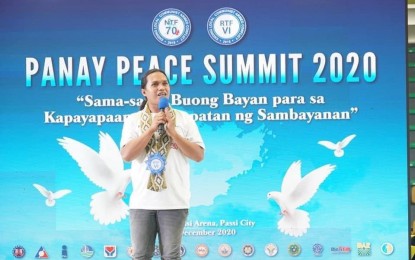 DAVAO CITY – A former leader of the New People's Army (NPA) described Menandro Villanueva alias "Ka Bok" as a slaughterer of the poor and killer of freedom.
In a statement Thursday, Joy "Ka Amihan" Saguino, former secretary of Guerilla Front 20 under Sub-regional Committee 1 of the NPA's Southern Mindanao Region, said the people of Davao Region and Mindanao are witnesses to the reign of terror and violence that Villanueva has planted for five decades.
Villanueva, who had several warrants of arrests for multiple murders, double frustrated murders, arson, robbery with intimidation, and rebellion, among others, was killed in an encounter with government troops in Davao de Oro on January 5.
Villanueva was the most wanted NPA leader in Mindanao and longest-serving secretary of the NPA's Southern Mindanao Regional Committee (SMRC). He was also secretary of Komisyong Mindanao (KOMMID), commanding officer of the NPA's National Operations Command (NOC), and member of the POLITBURO of the Central Committee of the Communist Party of the Philippines (CPP).
"He died not serving the people, but serving the violent communist aspirations and imposing dictatorship and authoritarianism within our midst. He is never admired for the terror and fear he strewed in every Filipino community," Sanguino said.
No hero
The word "hero", she added, does not fit Bok as it is defined as a person "who is admired by many people for doing something brave or good."
"Ka Bok is certainly a brave person, but definitely not for the good. He was a brave person for fighting to overthrow the government, a brave person to kill Filipino soldiers, and a brave person to murder in cold blood tens of thousands of innocent civilians mostly are farmers and indigenous peoples," she said.
Sanguino also described Villanueva as a champion of terrorism and shall be remembered by the Filipino people as a patron of human rights violations and an apologist for violence.
Killing spree and atrocities under Villanueva's leadership
Among the atrocities committed by Villanueva in various parts of Mindanao includes the killings of the following: Datu Bandajao Mampaundag and son, Jhonard Mampaundag, of Talaingod Davao del Norte; Datu Bobong Elizalde of San Miguel, Surigao del Sur; Mayor Dario Otaza and son Daryl Otaza of Loreto, Agusan del Sur; Talaingod Mayor Jose Libayao; Benedicto Dinoy or Datu Mantalasan of Impasug-ong, Bukidnon; and Datu Antonio Takinan in Magpet, North Cotabato.
Villanueva also killed Nilo Bandalan, Naro Abegando, Asang Aranio, Balanggas Pupuan, Toto Latuan, Randy Latuan, Bae Aranio and others in San Fernando, Bukidnon, Benjamin Tobias, Edwin Catog, Rowena Masukasi, Dione Masukasi, Alvin Cabiza, Lotec Mendez, Ronie Lapedario, Seno Bangian, Clowed Hamesola, Morendo Liwatan, Mark Anthony Bautista, Rey Rollon and Joel Bayate all from Pantukan, Davao de Oro.
In Davao City, he was responsible for the killing of Datu Omelis Duyan, Datu Causing Ogao, Santos Sabuan and Ben Pandia while Datu Naom Mundasan, Ganary Casiguan and William Balid from Kapalong, Davao del Norte also suffered from the hands of the communist leader.
Saguino said Villanueva was also responsible for the burning of the following: construction equipment in Columbio, Sultan Kudarat; agricultural machines in a banana plantation in Valencia City, Bukidnon; agricultural equipment in Don Carlos, Bukidnon; and Lapanday Foods Corporation in Davao City.
He also spearheaded the bombing of the Philippine National Police (PNP) Municipal Police Station in Quezon, Bukidnon.
Clear message
Sanguino emphasized that the message of the Mindanao people is clear – CPP-NPA is no longer welcome in any part of Mindanao.
She said Marco Valbuena, the CPP's Information Bureau, must draw lessons from the series of setbacks that NPA units in Mindanao have suffered in the past four years including the several arrests and deaths of its top leaders - Leonardo Nabong, the 1st deputy secretary of the Western Mindanao Regional Party (killed in Zamboanga del Norte on Nov. 13, 2020); Loida Magpatoc, peace consultant of the National Democratic Front (NDF) (arrested in Bukidnon on Sept. 15, 2021); Jorge Madlos commander and spokesperson of the NPA's national operations command and spokesperson of NDFin Mindanao (killed in Bukidnon on Oct. 30, 2021); Anna Sandra Reyes alias "Kaye," secretary of SMRC Regional White Area Committee (killed in Davao de Oro on Dec. 24, 2021); and lastly, Ka Bok.
"Valbuena has exhaustively and repeatedly tried to twist this truth by telling that they still earn the support of the people. He must be living in illusions. These people you claim 'yours' are the same people who have tipped information to our government forces about the whereabouts of your notorious NPA units that led to arrests and deaths of many of your members and leader," Sanguino added.
She added that the communist aspirations of the NPA have long been rejected by the people, rooting from a foreign and an obsolete ideology, proven failed in the Union of Soviet Socialist Republics (USSR), China, Vietnam, among other nations who have tried to be socialists through a violent overthrow of the government.
"Your war, in fact, your terrorism, is never and has never been the highest aspirations of the people. If you are indeed paying attention to the interests of the people, you must have known that the people's desires are peace, national progress, and development," Sanguino said.
Appeal
She urged other members of the communist NPA to surrender, return to the folds of the law, collaborate with the government for progress and rural development, and render to the people the avenue of peace.
"Don't wait for your body to rot to earth like your ideology. The people have learned already. They already know the deceptions and lies you have expertly mastered for five decades. You can no longer fool the people," Sanguino said.
The CPP-NPA is listed as a terrorist organization by the United States, the European Union, the United Kingdom, Australia, Canada, New Zealand, and the Philippines.
The Anti-Terrorism Council also formally designated the NDF as a terrorist organization on June 23, 2021, citing it as "an integral and inseparable part" of the CPP-NPA that was created in April 1973. (PNA)