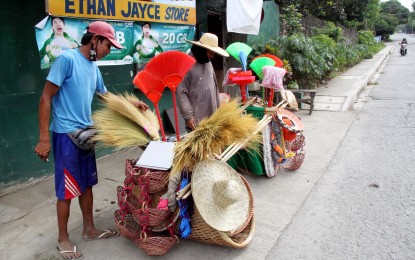 MANILA – Presidential Adviser for Entrepreneurship Joey Concepcion believes that there is no need for the Inter-Agency Task Force for the Management of Emerging Infectious Diseases (IATF) to implement a stricter alert level system, particularly in Metro Manila as people are doing voluntary lockdown at their homes.
In a Laging Handa briefing Friday, Concepcion said mobility in the National Capital Region (NCR) has slowed down since the spike of coronavirus disease 2019 (Covid-19) cases after the holidays.
He added that due to the more transmissible Omicron variant, people have contracted the virus that even put their whole households into "voluntary lockdowns".
"That is why they are resistant to go out, and the mobility has gone down. I was telling when they are proposing for Alert Level 4, the mere fact that people are staying at home is a voluntary lockdown, it's like Alert Level 4," he said in mixed English and Filipino.
Although the new wave in Covid-19 cases will likely hit the momentum of economic recovery, the presidential adviser is hopeful that the number of infections will slow down by end of the month or early February.
"What our partners are saying, OCTA Research, we will come to a point that cases will drop. We've seen in other places that it will peak, it will stabilize then it will go down… We've seen that even with Delta even before the fourth quarter," Concepcion said. "I am optimistic that maybe before the end of the month or February period, we should hopefully see in NCR, hopefully (cases are) moving lower now."
He added that the government should remain focused on its vaccine rollout and giving booster shots.
Since Metro Manila and other provinces in Luzon have high vaccination rates, Concepcion said the government should speed up inoculating people in Visayas and Mindanao for them to avoid high utilization of hospital facilities as statistics show that 85 percent of those who are hospitalized are unvaccinated patients.
Concepcion reiterated his support to the "no vax, no labas" policy that limits the mobility of unvaccinated individuals to essential activities.
At least in Metro Manila, unvaccinated people are barred from leisure visits to the mall, dining establishments, and even public transportation.
Some local government units (LGUs) across the country are adopting the said policy.
"It's not like (they are) being deprived (of) their freedom to move, but they are being protected from getting this Omicron and possibly filling up the hospital. Hopefully, this move of Metro Manila mayors is really snowballing to different LGUs across the country. I think we will have more of them in taking the vaccine," Concepcion added. (PNA)