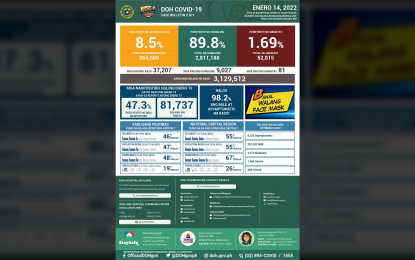 MANILA – The number of new Covid-19 infections reached 37,207 on Friday, setting another record high number of new cases in a single day.
In its daily Covid-19 bulletin, the Department of Health (DOH) said the new cases brought active cases to 265,509. There were 9,027 new recoveries—higher than Thursday's 4,694—bringing the country's total recoveries to 2,811,188.
Of these active cases, 252,502 were exhibiting mild symptoms, followed by the asymptomatic at 8,325, those with moderate symptoms at 2,913, those with severe symptoms at 1,469, and those in critical condition at 300.
The three regions in the country with the highest number of infections within the last 14 days are the National Capital Region (NCR) with 16,824, Region 4-A with 8,580, and Region 3 with 4,052.
It reported 81 deaths—lower than Thursday's 144—bringing the country's total to 52,815 or 1.69 percent of all known Covid-19 infections.
Based on the latest testing data, a total of 81,737 Covid-19 tests were administered on Wednesday, with 47.3 percent positive for Covid-19.
The availability of hospital beds in the country remains moderate, with about 3,400 beds at intensive care units (ICU) at 46 percent occupancy, 20,200 isolation beds at 47 percent occupancy, 13,400 ward beds at 48 percent occupancy, and 19 percent of 3,100 ventilators are currently in use.
In NCR, there are 1,100 ICU beds at 55 percent occupancy, 5,000 isolation beds at 55 percent occupancy, 4,400 ward beds at 67 percent occupancy, and 26 percent of 1,000 ventilators are currently in use. (PNA)