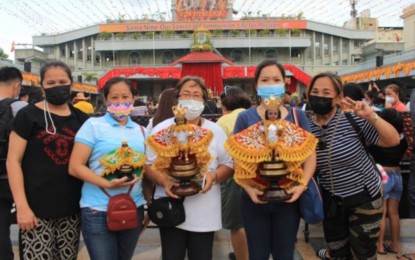 CEBU CITY – Amid the ongoing threat of the coronavirus disease 2019 (Covid-19) and its Omicron variant, the Augustinian Friars will forego, for the second time, the traditional solemn foot procession of the Holy Image of the Sto. Niño on Saturday and instead hold a grand mobile procession.
The procession of the image of the Holy Child will start at the Basilica Minore del Santo Niño and proceed to Cebu City, Talisay City, Mandaue City, Lapulapu City, and Cordova, traversing the 8.5-km. Cebu–Cordova Link Expressway.
In an advisory on Friday, the friars in charge of the affairs of the Basilica Minore del Sto. Niño appealed to the thousands of devotees to observe the reminders set for the conduct of the solemn mobile procession of the miraculous image of the Holy Child.
The grand procession will start at 6:30 p.m. on Saturday, the eve of the 457th Fiesta Señor celebration.
"The official convoy (will be) composed of five vehicles only. Vehicles that will attempt to approach, go near, or join the convoy will be asked to move away by the security personnel," the advisory read.
The friars also advised the devotees in areas where the mobile procession will pass not to obstruct the route with altars, sound systems, or any structure that may impede the flow of traffic.
An hour before the procession, the Basilica will be closed to the public until the start of the motorcade.
Devotees have been requested to stay on the sidewalks while waiting for the convoy to pass, observe safe physical distancing, and wear masks. (PNA)