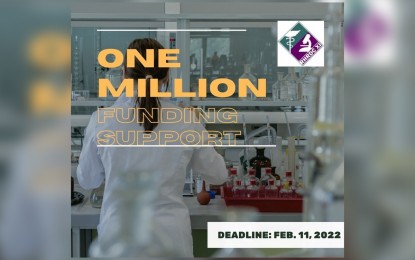 MANILA – The Regional Health Research and Development Consortium in Davao Region (RHRDC-XI) is looking for health-related research proposals that will receive funding from the Department of Science and Technology (DOST).
Up to PHP1 million funding per project proposal will be allocated for researchers from RHRDC-XI member institutions, like the Davao Medical School Foundation and the University of the Philippines Mindanao.
Normally, about half of the average 10 to 15 proposals yearly get approval with a project cost that ranges from PHP500,000 to PHP1 million.
"This is a small grant, and also a way of encouraging young ones to pursue research and apply for big-ticket projects in the future," DOST-XI Director Anthony Sales told the Philippine News Agency on Friday.
The budget that will be sourced from the DOST-Philippine Council for Health Research and Development is available as long as the proposals are of good quality, Sales added.
"There is a budget for research. Training will also be provided to further capacitate the researchers. Being open for collaboration with other researchers/institutions is very important," he said. "Review will be done by the experts in the region. No additional funding for equipment is allotted."
Proposals must be feasible within 6 months to 1 year.
Interested parties may submit the following until February 22: capsule proposal, endorsement from head institution addressed to RHRDC-XI chair Warlito Vicente, and curriculum vitae of proponents.
Further details and format can be found at region11.healthresearch.ph/. (PNA)