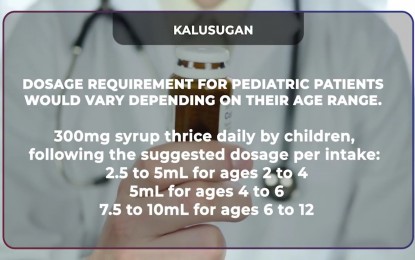 MANILA – A medical doctor and project leader of the study on lagundi as adjuvant therapy for mild Covid-19 reminded the public that there is a prescribed dosage for the herbal medicine that treats cough and asthma.
Department of Science and Technology (DOST) Secretary Fortunato de la Peña, in a taped report aired Friday afternoon, said the prescribed dosages will ensure that treatment using lagundi will render positive results.
Citing the recommendations of Dr. Cecilia Maramba-Lazarte, the project leader of the lagundi clinical trial by the University of the Philippines Manila with the support from DOST-Philippine Council for Health Research and Development, he said adults may take the 600-milligram (mg) tablet or 5 milliliters (ml) of the 600 mg syrup thrice daily.
Pediatric patients' dosage requirements, on the other hand, would vary depending on the age range.
The 300 mg syrup may be taken thrice daily by children, following the suggested dosage per intake: 2.5 to 5 ml for ages 2 to 4; 5 ml for ages 4 to 6; and 7.5 to 10 ml for ages 6 to 12, according to de la Peña.
People 12 years old and above may also take the 600 mg tablet thrice daily, he added.
"By following these guidelines, the use of lagundi may alleviate mild Covid-19 symptoms. Lagundi has long been used for cough and asthma relief," the DOST chief said.
The clinical trial on lagundi as adjuvant therapy seeks to determine if the herb can provide symptomatic relief for mild Covid-19 patients without comorbidities or if it can decrease the progress from mild to moderate or severe cases.
The two-stage, randomized double-blind, placebo-controlled study was conducted from July 2020 to August 2021. (PNA)