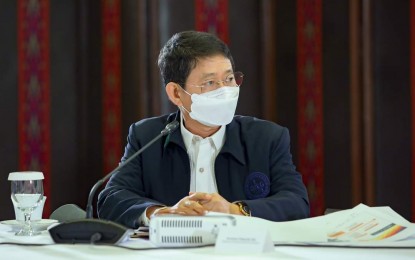 MANILA – Department of the Interior and Local Government (DILG) Secretary Eduardo Año is back on duty beginning Monday, seven days after he contracted Covid-19 for the third time.
"Ok naman ako. January 17 cleared na ako (I'm okay now. I've been cleared as early as January 17)," Año said in a message to the Philippine News Agency on Sunday.
On January 11, Año announced that he was tested anew for Covid-19 although he was asymptomatic.
Año first tested positive for Covid-19 on March 31, 2020, and underwent a second test on April 8, which came out negative.
He, however, tested positive for the virus again on Aug. 16, 2020.
On Jan. 11 this year, Año went on a one-month leave as part of his then post-Covid health recovery plan.
As this developed, Año said anyone with mild coronavirus symptoms, which cover the public and healthcare workers, must isolate for seven days, while those who are not fully vaccinated must do so for 10 days from the onset of symptoms.
"Asymptomatic close contacts who are fully vaccinated must quarantine for five days; those not vaccinated must do so for 14 days," he added.
On Saturday, Philippine National Police (PNP) chief Gen. Dionardo Carlos said the police will help the local government units (LGUs) in implementing the extended alert status in National Capital Region and several provinces until January 31.
"This will give ample time for us to stabilize the situation. With more restrictive guidelines, the public will be discouraged from going outside for non-essential purpose. This will also help our law enforcers in monitoring the movement of people," Carlos said.
He added that if the extended alert level 3 status won't be enough to curb the further spread of the coronavirus, then the PNP can flexibly shift to tighter protocol enforcement if necessary.
This, despite the 295 new infections recorded on Sunday that increased the PNP's active cases to 3,982.
The PNP also logged 342 new recoveries, bringing the recovered tally to 41,435 while the death toll remains at 125.
The PNP is working on adding more isolation facilities as the bed occupancy rate for coronavirus patients in Camp Crame has exceeded 100 percent.
Lt. Gen. Joselito Vera Cruz, PNP deputy chief for administration, said this can be attributed to the continued rising number of police being stricken with the virus.
Camp Crame has nine isolation, quarantine, and treatment facilities, which carry a 560-bed capacity.
Meanwhile, the National Capital Region Police Office (NCRPO) on Sunday said 22,535 or 99.95 percent of its personnel have been fully vaccinated against Covid-19.
NCRPO chief Maj. Gen. Vicente Danao Jr. said the 96 NCRPO personnel remain unvaccinated due to valid reasons and medical conditions while 37.25 percent or 8,802 personnel have received their booster shots.
"With the continuing threat of this deadly virus, vaccines against Covid-19 are very vital for our protection and our family as well. At present, the vaccination of our personnel dependents is still ongoing. We hope that everyone else receives the much-needed vaccines so that we can gradually ease our quarantine restrictions, prevent virus transmission and eventually go back to our normal lives," Danao said in a statement. (PNA)