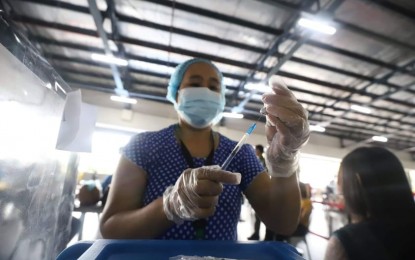 ILOILO CITY – The local government here is gearing to commence its pediatric vaccination targeting more or less 60,000 children aged five to 11 years old by the end of this month.
"Once we roll out the vaccination for 5 to 11 (years old), we already identified two mega vaccination sites that will cater only to this age group to separate them (from other vaccinees)," said Dr. Roland Jay Fortuna, Iloilo City Covid-19 focal person, in a press conference on Monday.
He said the use of the gymnasiums of the Ateneo de Iloilo, Santa Maria Catholic School and the Central Philippine University (CPU) is still subject to confirmation.
Dr. Annabelle Tang, officer in charge of the City Health Office, said they will be using Pfizer-BioNtech vaccine, which has been given an emergency use authorization (EUA) by the Food and Drug Administration (FDA).
"There is going to be a registration. We will follow the same procedure as the 12 to 17 years old and adults," she said.
The registration will be done in their respective barangays or in identified malls.
Meanwhile, the ongoing rollout of booster doses showed positive results.
Of the around 417,000 fully vaccinated population in the city, around 170,000 have received booster shots since the rollout in November last year.
"We have a positive response from the public for our booster shots. And most of those that were catered by our vaccination sites were for booster shots. This means that our population in the city already accepts and understood that they are well-protected if they have booster shots," he said in the same press conference.
He said it is necessary for the public to get an extra layer of protection amid the threat of the Omicron variant.
Almost 100 percent of the city employees have already availed of booster shots, he added.
In addition to mega-sites that administer booster shots, the city government has also allocated vaccines in hospitals and district health centers.
The city government does not only offer first, second and booster doses for its residents but also for those from other provinces. (PNA)