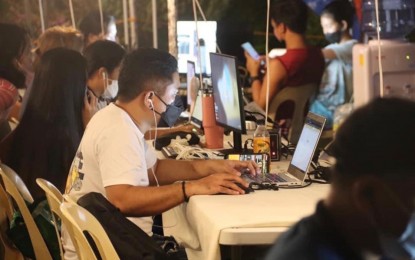 CEBU CITY – With Typhoon Odette causing widespread disruption in Cebu province, many information technology and business process management (IT-BPM) companies carried out business continuity plans (BCP), a property consultancy firm said on Monday.
The plans are being carried out to immediately provide their employees with a workspace that has internet access and electricity, which resulted in high demand for fully fitted or plug-and-play spaces.
Property consultancy firm Colliers underscored that office market opportunities have emerged in the aftermath of the calamity.
Winston Luna, senior manager of Colliers Cebu service office, said in a statement on Monday that several "plug and play" office facilities were immediately leased out in the aftermath of the typhoon as office locators raced to keep their operations running.
"We have observed that several IT-BPM players have signed leases in such facilities in the short-term or until electricity providers reenergize their employees' respective areas," Luna said.
The IT-BPM industry, which employs about 200,000 workers in Cebu in 2021, has already been implementing a work-from-home (WFH) setup before the typhoon to protect their employees from coronavirus disease 2019 (Covid-19). This became more challenging after the typhoon left many residential communities heavily damaged.
The restoration of electricity, water, and telecommunication lines would possibly take months for some places.
"Since many IT-BPM locators generate revenue on a per-seat and per-minute basis, these companies carried out BCP to immediately provide employees with an alternative workspace, which resulted in high demand for fully fitted or 'plug and play' spaces," Luna said.
He said that "many occupiers searched for such options across Metro Cebu, while others even flew their employees to unaffected cities, including Metro Manila."
However, occupiers have been facing challenges in the office market even before the typhoon.
"Apart from high competition for fitted office spaces, there remain some challenges for certain occupiers whose 'must-haves', such as flexible lease terms, required area size/number of seats, and generator set capacity, are not yet being met," Kathlyn Atillo, assistant manager of the company's office services in Cebu, said.
In addition, not all landlords provide internet connection and air conditioning which are integral to tenants' operations, Atillo said.
Social distancing must also be implemented and observed in the workplaces to limit the spread of Covid-19, and most occupiers need to follow a one-meter or one-seat-apart setup in the workplace.
This translates to a larger-sized office requirement, which means additional costs for many companies. All these challenges may cause delays in the implementation of BCPs.
"Lessors need to be flexible with their offered commercial terms and lease durations, especially during these extraordinary times. Flexible workspace providers should gauge interest for fitted spaces in the market and create more plug and play facilities that capture the evolving needs of occupiers," Luna said.
With the Covid-19 pandemic still raging and natural calamities inevitable, having a robust BCP has never been more crucial to ensure the protection of an organization's operations, assets, and employees. (PNA)