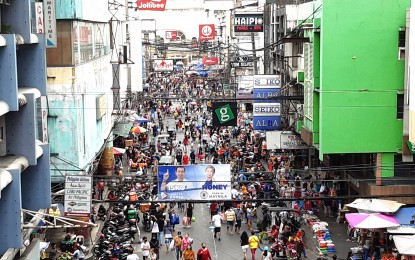 MANILA – The OCTA Research Group said Tuesday the growth of Covid-19 cases in the National Capital Region (NCR) has decreased to -7 percent based on the seven-day moving average of new infections.
On Monday, the region's growth rate was -1 percent.
"The City of Manila had 1,210 new Covid-19 cases on January 17, 2022 based on DOH reports. This is the lowest number in Manila since January 4," OCTA Research Group member Dr. Guido David said in a tweet.
He added that the seven-day average of new cases decreased from 1,958 to 1,829, or a 7 percent decrease.
The reproduction number, the number of individuals a Covid-19 case could infect, in Manila decreased to 1.73 from 4.30 a week before.
"If new cases continue to decrease in Manila, there is a strong possibility that new cases in the NCR will decrease as well," David said. "Nevertheless, NCR residents must continue to remain vigilant in following public health guidelines to sustain the momentum." (PNA)