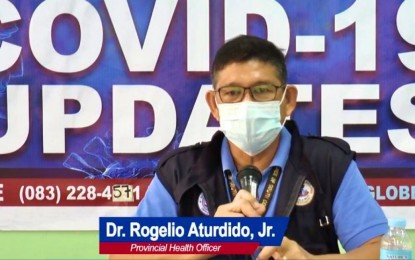 KORONADAL CITY - The province of South Cotabato has logged its first case of the Omicron variant but the patient has already fully recovered, an official of the integrated provincial health office (IPHO) confirmed on Tuesday.
Dr. Rogelio Aturdido Jr., the South Cotabato IPHO chief, said the local case is a 15-year-old boy from Polomolok town who recovered from the Omicron variant of the coronavirus disease 2019 (Covid-19).
The case was based on the event-based Surveillance and Response Report of the Department of Health received by the Provincial Epidemiology and Surveillance Unit (PESU) of IPHO on Monday.
Aturdido said the variant was only discovered on the asymptomatic patient when he subjected himself to the Covid-19 test as a travel requirement on Dec. 2, 2021.
"The following day the boy and his family underwent another test in the same laboratory and the result was negative. On December 4 they have isolated themselves for 14 days," Aturdido said in an interview.
The patient has no travel history outside of South Cotabato 14 days before undergoing the Covid-19 test.
"He is a homebody going to mass every Sunday, eating outside together with his family, and then going back home where they stay for the rest of the day," Aturdido said.
He said upon the discovery of the Omicron variant on the asymptomatic patient, Polomolok town conducted contact tracing but found out he did not have any outside his family.
"The good thing is the family is staying at home because they are preparing to travel," he said.
Aturdido called on the public to be vigilant as long as the threat of the Covid-19 is imminent and not only when a new variant arises.
"Since last year, I am reminding the public that with the impending threat of Covid19 they have to prepare," he said.
Data from the Department of Health-Soccsksargen showed that as of January 17, the province of South Cotabato has recorded 18,741 cumulative confirmed Covid-19 cases, 219 active cases, 738 Covid-19 related deaths, and 17,781 recoveries. (PNA)