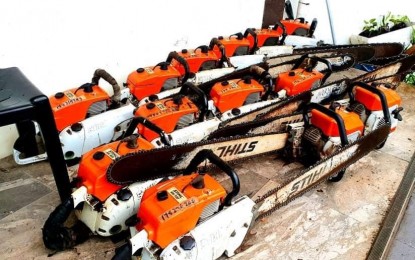 TACLOBAN CITY – The Philippine Coconut Authority (PCA) in Eastern Visayas sent more than 200 chainsaws to areas badly hit by Typhoon Odette to hasten the clearing of debris.
Most of the motorized saws were deployed in the 18 towns and Maasin City in Southern Leyte and some parts of Leyte, 100 were sent to the Caraga Region, and 20 in Cebu province.
"We allowed local government units to borrow the chainsaws used during the post-'Yolanda' clearing to fast-track the removal of debris and process these fallen trees into lumber to help rebuild damaged houses," said PCA Eastern Visayas regional manager Joel Pilapil in a phone interview Wednesday.
"Even without a formal agreement, we decided to send these to typhoon-hit areas since the need is urgent. Once deployed, whatever expenses incurred in the use and maintenance of these chainsaws are charged to local government units," Pilapil added.
PCA sees an immediate need for clearing fallen trees to avert the risk of pest infestation, preparing land for fast-growing crops, and replanting high-yielding coconut varieties.
The PCA earlier reported that the coconut industry in Eastern Visayas has suffered PHP614.27 million production loss as Typhoon Odette destroyed over 10 million trees in Leyte Island when it unleashed its wrath in Caraga and Visayas regions on Dec. 16, 2021.
About 57,367 metric tons of nuts ready for harvesting this year were wasted by the typhoon's 195 kilometers per hour sustained winds.
The typhoon has destroyed the livelihood of 82,370 coconut farmers in the Southern Leyte and Leyte provinces.
Of the estimated 10 million toppled or sheared coconut trees, 3.9 million of them were damaged beyond recovery. (PNA)