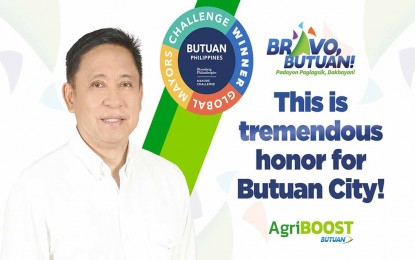 BUTUAN CITY – The city's triumph in the 2021-2022 Global Mayors Challenge of the Bloomberg Philanthropies was a big honor including for its residents that showcased the competitiveness of local farmers.
This was the statement made by Mayor Ronnie Vicente Lagnada on Wednesday, emphasizing that dedication and hard work have led the city to attain the prestigious award.
"This is a tremendous honor for the city. It showcases the constant strives we make each day to think bigger and bolder," Lagnada said.
The city is among the 15 cities in the world that won the challenge as announced by the Bloomberg Philanthropies on Tuesday.
Butuan's "AgriBOOST" proposal was adjudged winner by Bloomberg Philanthropies.
The AgriBOOST is an innovation designed to address the agri-business value chain issues such as boosting the competitiveness of farmers through technical and resource support, demand-driven production, and reliable farm gate pricing.
It also strengthens the agricultural hub in the city that helps catalyze market forces, the orchestration of collaborative planning and decision-making among the value chain partners.
The hub also serves as a vegetable processor, quality and traceability controller, demand forecaster, and price manager.
The AgriBOOST also revitalizes trade practices by enabling market channels to access stable supplies of quality vegetables with predictable social retail pricing.
Bloomberg said the goals of AgriBOOST are achievable in a short-term period, particularly in the increase in vegetable production that will bring considerable growth to farmers' income.
Under the AgriBOOST, the city targets to increase vegetable production from 19 percent in 2020 to 150 percent and reduce the average vegetable retail price by 50 percent by 2023.
The income of vegetable farmers in the city is also seen to rise by 50 percent during the period.
Butuan City's AgriBOOST came out as one of the 15 winners of the 631 entries from 99 cities around the world for the Bloomberg Philanthropies Mayors Challenge.
The other winning cities included Amman, Jordan; Bogotá, Colombia; Freetown, Sierra Leone; Hermosillo, Mexico; Istanbul, Turkey; Kigali, Rwanda; Kumasi, Ghana; Paterson, New Jersey, USA; Phoenix, Arizona, USA; Rochester, Minnesota, USA; Rotterdam, the Netherlands; Rourkela, India; Vilnius, Lithuania; and Wellington, New Zealand.
Each of the winners will receive US$1 million and additional technical support and coaching for three years for the implementation of their winning proposals. (PNA)