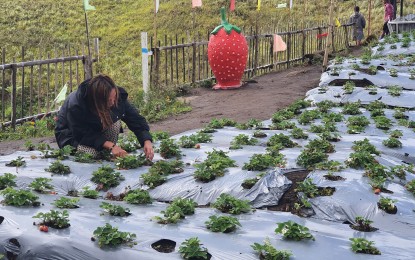 OZAMIZ CITY, Misamis Occidental – Larry and Pearly Mansog were married for 26 years and things were already steady with their farm delivering good produce in Barangay Nueva Vista, Don Victoriano Chongbian town of this province.
Until the lockdowns due to coronavirus disease 2019 (Covid-19) pandemic have forced many businesses to stop operations that also affected their livelihood.
They used to plant and sell highland crops like bell peppers and cabbages, but the profit was not enough compared to what they usually earned before the pandemic.
"So, we thought of planting strawberries. We started with 480 'mother plants' in March 2021," Larry said in vernacular during an interview Wednesday.
The couple shelled out around PHP120,000 for the startup, converting their four-hectare farmland into a strawberry farm.
Larry and Pearly were among farmers who recently ventured into strawberry farming in Don Victoriano Chongbian.
Barangays Nueva Vista, Gandawan, and Lake were all located at the foot of Mount Malindang, an area suitable to plant strawberries due to its cold climate.
Word-of-mouth, social media
The Mansog couple initially sold their produce to nearby markets until some people begin to ask where the strawberries come from and eventually started to visit their farm.
Strawberry farming was introduced in 2018 to farmers Anjun Rado and Gerald Comilap.
In fact, the Mansogs bought the seedlings in the neighboring barangay of Lake, where Comilap was based.
It was social media that made their town popular because of the strawberry farms.
"Once they found our place, they would visit here, and take photos and post it in social media," Larry said.
As a result, he constructed a cafeteria within his farm that offers additional food products and beverages for the visitors.
Currently the price range of strawberries cost PHP100 to PHP150 per plastic container. A kilogram would cost PHP500.
Support
Mayor Bertuldo Murallon Jr. said the municipality acknowledged the emerging potential of strawberry farming for agri-tourism.
And with the ongoing road widening project for the highland barangays courtesy of the Department of Public Works and Highways, Murallon believes more opportunities and development will pave its way, particularly for the farmers.
"We extended support with these farmers the needed materials and equipment," he said.
Pearly confirmed that the local government has provided them some seedling trays and plastic mulches.
Murallon said they are still waiting for additional support from the Task Force to End Local Communist Armed Conflict, hoping to get PHP60 million this year through the Barangay Development Program to which Nueva Vista is one of the three recipients.
"The fund was already downloaded last year (2021) to the provincial government, when President (Rodrigo Roa) Duterte visited in Cagayan de Oro," Murallon said.
Meanwhile, some strawberry farms have partnered with the Agriculture Training Institute of the Department of Agriculture (DA).
DA Region 10 Technical Director Carlota Madriaga said strawberry farming in Don Victoriano Chongbian is one of the emerging crops in Northern Mindanao that can be sold in mainstream markets in the future.
"Because of agri-tourism, strawberry production has become a good potential (for bulk production)," he said in a media forum last week.
Madriaga said growing strawberries in Don Victoriano Chongbian was an exploratory endeavor of the Special Area for Agricultural for Development, that later made the town popular for its "strawberry hills."
"Before, the farmers only plant highland crops, they can grow them because of the cold weather since the town was situated at the foot of Mount Malindang," she said.
Step forward
In the meantime, Larry and Pearly have been growing the strawberries through the traditional method as they continue to learn from the experience.
Larry said while the end of the pandemic remains uncertain, they will continue to grow and sell strawberries and other crops.
"We will continue our improvements here, even some of it (funds) comes from loans," he said.
He also said he plans to apply for any DA-initiated programs and trainings to help them achieve better productivity. (PNA)