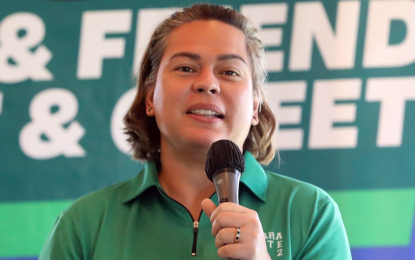 MANILA – Davao City Mayor Sara Duterte on Wednesday night said her dream is to inspire patriotism among the youth and not to be "ungrateful" citizens like her fellow vice presidential candidate Walden Bello.
Sara made the comment after Bello said the presidential daughter's remarks on mandatory military service for all Filipinos upon turning 18 years old "is a mask off moment for the dictator-in-waiting."
"I truly hope that our youth do not grow up to be a Walden Bello — an ungrateful citizen who sleeps peacefully at the comfort of their homes, unable to say a prayer or a silent 'thank you' to the men and women who became martyrs while countering violent extremism, insurgency, and terrorism," Sara said in a press statement.
During the UniTeam Alliance's virtual caravan on Wednesday, Sara said she will push for the imposition of mandatory military service for all 18 years old, male and female.
"If only Walden Bello wasn't so quick to jump the gun, he would know that my vision was not only to push for mandatory military service for the youth," she said. "And an 18 year old is definitely not a child."
She said only the likes of Bello would think of mandatory military service for Filipino citizens "as arming them and telling them to kill – instead of looking at it as something that inspires patriotism in the youth."
"If only he wasn't so quick to react, he would have realized that I also emphasized the need for the youth to be prepared for disasters and become proactive community partners in rescue operations and in aiding victims of calamities," she added.
Sara said she also mentioned during the virtual caravan that the youth should play active roles in advancing their own welfare, particularly in the past of health, education, gender equality, and reproductive issues.
"I wanted them to be able to stand on their own, help themselves, help the communities, and help the nation," she added.
The obsession over dictatorship in the Philippines, she added "is as ancient as the belief that the youth have no actual important role in building a nation that is progressive and peaceful."
"If only Mr. Bello did not stop at what he has been so stuck in over the past many years — dictatorship in the Philippines, something that we know is a lie in the present time — he would have a better understanding of what I truly stand for," Sara said. (PNA)