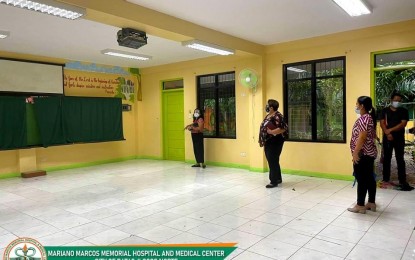 LAOAG CITY –The Mariano Marcos Memorial Hospital and Medical Center (MMMH&MC) in Batac City, Ilocos Norte province has reopened its onsite field hospitals to accommodate an overwhelming number of coronavirus disease 2019 (Covid-19) patients being referred to this primary treatment center in Northern Luzon.
Health Education and Promotions Officer of the MMMH&MC, Jhey-ar Mangati, confirmed this on Friday as he reported that 13 patients are currently confined in the temporary facilities located at the Outpatient Department driveway and on the fifth floor Eastern Ward of the hospital building.
The hospital has been treating 79 Covid-19 patients as of Thursday while 85 of its health care workers have been isolated after testing positive for the virus, according to the latest hospital report.
The hospital has a total of 181 beds for Covid-19 patients – 101 in wards, 33 in isolation rooms, and 47 in the Intensive Care Unit.
"In case of (a) sudden surge, our field hospital 3 – the Catalino Acosta Memorial Elementary School (CAMES) – is now being prepared for the possible transfer of some of the stable regular patients," he added.
Early on, the Department of Education has allowed the conversion of at least five rooms of the CAMES as temporary field hospital 3 of the Batac hospital to increase the number of treatment spaces available for patients.
As of January 20, Ilocos Norte has logged a total of 1,815 active cases, 237 of which are new cases. Most of them are considered mild cases, based on the provincial government report.
Dr. Rheuel Bobis, Covid-19 focal person of the Department of Health 1 (Ilocos), said in a media interview Friday that from an average of eight cases per day in December 2021, the numbers jumped to more than 500 cases per day in the entire region.
"This is expected as many were exposed during the festivities," he said, adding that the surge may also be attributed to the confirmation of eight Omicron variant cases in Ilocos Norte, Dagupan, Pangasinan, and Ilocos Sur.
To prevent the further spread of the virus, Bobis reiterated that people should isolate immediately once they begin experiencing symptoms of Covid-19 then seek medical advice and inform the Barangay Health Response Team for appropriate action. (PNA)