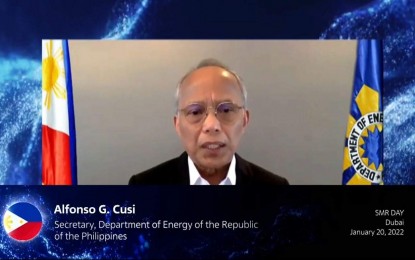 DUBAI, United Emirates – The Philippine Department of Energy (DOE) and the Russian State Atomic Energy Corporation (ROSATOM) on Thursday reaffirmed their collaborative efforts to explore the potential utilization of small modular reactor (SMR) technology in the Philippines during the Small Modular Reactors' Day.
This event formed part of ROSATOM's Breakthrough Technologies for Sustainable Future Week, which was held at the sidelines of the World EXPO 2020.
Under the definition of the International Atomic Energy Agency (IAEA), SMRs "are advanced nuclear reactors that have a power capacity of up to 300 MW(e) per unit, which is about one-third of the generating capacity of traditional nuclear power reactors".
Because of their size, and the capability of pre-assembling most SMRs in factories, they are considered ideal for industrial utilization, as well as for use in remote areas with limited grid access.
In a pre-recorded video message, Energy Secretary Alfonso Cusi stated that SMRs are a "game-changer in the global energy landscape", especially since they could be utilized in locations that are not suitable for large nuclear power plants (NPPs).
"It is an attractive, viable, and doable option for the Philippines given that SMRs provide non-intermittent power supply for calamity-prone countries, their low-carbon footprint, predictable supply costs, and are tailored-fit for our country's archipelagic setting," Secretary Cusi emphasized.
He expressed strong interest in Russian nuclear energy technology and its potential application in the Philippines after an official visit to Saint Petersburg, Russia, in 2017, where he witnessed the assembly and processing of the 70-megawatt Akademik Lomonosov floating co-generation plant in the Kamchatka region.
In 2019, the DOE and ROSATOM signed a memorandum of intent in Moscow, Russia, on the conduct of a pre-feasibility study on SMR technology's applicability in the Philippine setting.
Cusi also took the opportunity to express his gratitude to ROSATOM for their continuing support and guidance, as the Philippines continues to explore the safe utilization of nuclear energy under IAEA direction.
ROSATOM Overseas President Evgeny Pakermanov emphasized that "SMR technologies offer an effective solution in the supply of stable, reliable, and environmentally-friendly power in island-countries".
He added that Rosatom's SMRs are among the world's safest, proven, and state-of-the-art technologies, and that "the Russian SMR technology is becoming increasingly popular day-by-day, and international guests at ROSATOM's SMR NPP day are testifying to it". (PR)