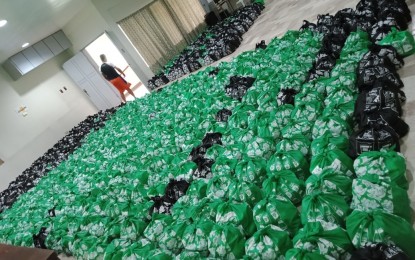 DUMAGUETE CITY – The Diocese of Dumaguete's Typhoon Odette Response Command Center began distributing on Friday about 2,000 food packs donated by the Banco de Oro (BDO) Foundation to families affected by the storm's onslaught in December.
Fr. Hendrix Alar, the diocesan command center's emergency program leader, told the Philippine News Agency (PNA) in an interview that the food packs were distributed to parishes in several areas in the province.
"We started the distribution in Tayasan today and we target Jimalalud and Bindoy tomorrow. The rest will be scheduled depending on the availability of transportation," Alar said in mixed English and Cebuano.
Meanwhile, in collaboration with the Foundation of Outstanding Mapuans, Inc. and the National Association of Mapua Alumni, Inc., the diocese also distributed 75 mosquito nets, 75 blankets, and 75 mats through the Manjuyod Parish, he said.
The Mangganay Quasi Parish in Bais City and the Bindoy Parish also received 32 sets of kitchen utensils for distribution to "Odette" victims.
Last week, the diocese began distributing shelter kits consisting of galvanized iron (GI) sheets and nails, among others, among typhoon victims in different parishes.
The command center, in collaboration with the National Secretariat for Social Action of the Catholic Bishops' Conference of the Philippines and Caritas, was set up alongside those in other dioceses where "Odette", which hit the Visayas on Dec. 16, 2021, left a trail of devastation.
Alar said relief aid continues to pour in from groups and individuals who have responded to their call to help the typhoon victims recover and rebuild their lives and their communities.
"We are thankful to our donors but we still need more as we cannot cover every parish or area as fast as we would like to. But we are moving forward in our response efforts," he added. (PNA)