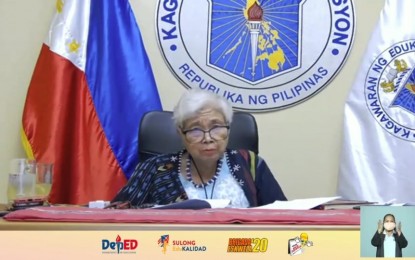 CITY OF ILAGAN, Isabela – Saying that the coronavirus disease 2019 (Covid-19) vaccination is not mandatory but is "highly encouraged for the greater interest," Education Secretary Leonor Briones said teachers and school personnel airing their tirades on social media "should make a choice."
"While it is voluntary on their part, they have to face and take (antigen swab) tests and shoulder the costs to show that they are exempted and they are not infectious," Briones said in her virtual news briefing with Cagayan Valley media practitioners on Friday afternoon.
"If they would not like to be vaccinated, they may opt for a work-from-home arrangement. However, they will be subjected to regular monitoring and close supervision by (education) officials."
Unvaccinated teachers will be required to have medical clearances and negative antigen results before being allowed to mingle with vaccinated people, she said.
Briones noted that the national government has been pushing for vaccination and that the education department has adopted the stand "because of national interest and protection of the majority and to have control over the health system of the people."
She also lamented that some educators have broken the "political neutrality, which is clearly a violation of the Commission on Elections and Civil Service Commission rules and regulations."
"As government employees, if you participate in public debates and not neutral on issues (such as vaccination), you are subject to the rule (of) laws," she added. (PNA)