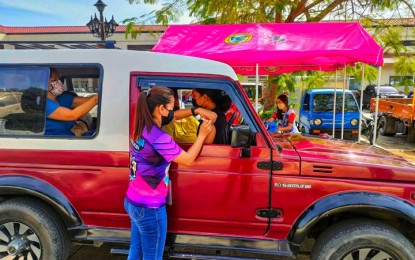 ZAMBOANGA CITY – The city government on Saturday held its vaccine booster day to increase the protection of its constituents amid the threat posed by the Omicron variant of the coronavirus disease 2019 (Covid-19).
A total of 22 vaccination centers were activated across the city to cater to walk-in clients who wanted to avail of a vaccine booster.
A drive-through vaccine booster center was also set up to cater to motorists at the Integrated Bus Terminal (IBT) in Barangay Divisoria.
"The drive-through activity is going on smoothly from the first stage up to the site where the vaccine booster is injected to motorists," Rafael Derick Evangelista, IBT administrator, said in a phone interview.
Evangelista said 400 doses of vaccine booster were made available at the drive-through center.
The vaccine booster given to fully vaccinated individuals in all vaccination centers, including the drive-through at IBT, was the AstraZeneca vaccine.
The city government said on its Facebook page that all fully vaccinated adults (18 years old and above) are eligible to receive a single-dose vaccine booster at least three months after the second dose of the AstraZeneca, Moderna, Pfizer, Sinovac, and Sputnik V vaccines.
Those who were inoculated with the Janssen vaccine can get their booster shots at least two months after their first dose.
"Join the Zamboanga City Booster Vaccine Day if you are eligible and be more protected against Covid-19," the city government said on its Facebook page.
A total of 557,957 individuals have been fully vaccinated since the vaccination program against Covid-19 rolled out in this city in March 2021.
The number of fully vaccinated individuals represents 80.31 percent of the target eligible population of 694,696 to be inoculated.
The City Health Office said 613,673 individuals representing 88.26 percent of the target eligible population have received the first dose of their Covid-19 vaccines.
"Strictly follow the minimum health protocol to prevent (the) further spread of the virus," Dr. Cathy Garcia, assistant city health officer, reiterated earlier this week. (PNA)