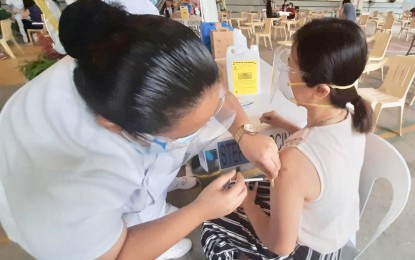 MANILA – The Philippines has administered 122,889,494 doses of coronavirus disease 2019 (Covid-19) vaccines nationwide as of Saturday, with 57,095,695 Filipinos now with complete shots and better protected against the virus.
Data from the National Covid-19 vaccination dashboard showed 59,716,484 individuals have received at least the first dose of the primary series while 6,077,315 got their booster or additional doses.
The government recently launched the "Resbakuna sa Botika" program in partnership with private pharmaceutical stores and clinics to encourage more fully vaccinated Filipinos to avail of booster shots.
Secretary Carlito Galvez Jr., chief of the National Task Force Against Covid-19, said "self-management and social responsibility" would greatly contribute to the country's response to the global health crisis.
"Basically, it is not sustainable that only the national government will take care of everything. I believe the private sector, the LGUs (local government units), and also the different parts of our society want to have responsibility. And that's the way forward to our Covid-19 pandemic response," Galvez said in an interview at a booster vaccination event in Makati City on Friday.
Galvez said there should a policy shift from having a government-centered approach to giving pre-access to those who are willing to assist in the national vaccination program.
"We have to deregulate because the stringent regulations in the national [level] may push some sort of unnecessary delays," he said.
Galvez reiterated that all Covid-19 vaccines are safe and effective against severe and critical symptoms of Covid-19. (PNA)