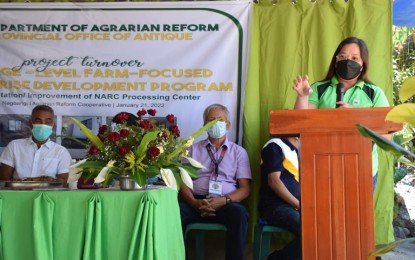 SAN JOSE DE BUENAVISTA, Antique – The PHP300,000 processing center funded by the Department of Agrarian Reform (DAR) for the Nagbangi Agrarian Reform Cooperative (NARC) in Antique is expected to boost the livelihood of the local food processors in the province's upland municipality of San Remigio.
Annalyn Fernando, chairperson of the recipient Nagbangi 1 Multi-Purpose Cooperative (MPC), said the processing center is a big help to their livelihood as it serves as permanent structure where they could carry out their operation.
"We only used to temporarily occupy the National Irrigation Administration (NIA) building in our barangay, but now we have already our own permanent center for the processing of chips and brew," she said.
The center was turned over to the NARC on Jan. 21 by DAR regional director Atty. Shiela Enciso and Antique Provincial Director Florentino Siladan.
The processing center, which is under the DAR's Village Level Farm Focused Enhancement Development Program (VLFED), designed to further develop competitive Agrarian Reform Beneficiaries' products and make them conform with the market demand.
Fernando also said in 2020 they also received Shared Service Facility (SSF) from the Department of Trade and Industry (DTI) consisting of PHP600,000 worth of processing equipment like juice extractor, slicer, grinder, freezer and oven.
"We are into processing of taro and banana chips, turmeric and ginger brew, and mix vegetable pickles," she said.
These raw materials are abundant in their barangay, which has a cool climate and conducive for its cultivation.
Currently five women workers, who used to be plain housewives, are working in the cooperative, earning about PHP3,000 a month.
DAR Antique information officer Yvonne Aguirre said Encisio challenged the project beneficiaries to work hard so that after two years they would have an increased income since they already own a processing center and they have been granted a License to Operate (LTO) as a food manufacturer by the Food and Drug Administration (FDA). (PNA)