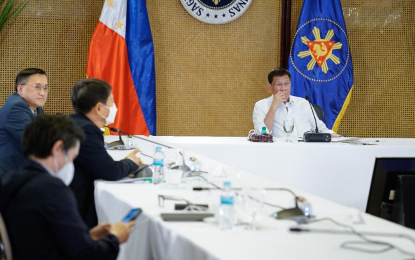 MANILA – President Rodrigo Roa Duterte on Tuesday said he would start talking about the May 9 elections and candidates in due time, as part of his job as the head of the country.
"I will personally name the candidates and maybe what's wrong with them na kailangan malaman ng tao (for the people to know) because you are electing a president. Sino 'yung pinaka-corrupt na kandidato (Who is the most corrupt candidate)," Duterte said in his prerecorded Talk to the People aired on Tuesday morning.
Duterte noted that this move is not a form of politicking, but rather merely informing the public based on the information he received.
"Hindi ako namumulitika (I am not politicking). I am talking to you as your President. There are things that which you must know sa aking trabaho and ito kailangan ilalabas ko kasi (I need to announce it because) we are talking of elections, we are talking of our country and the next rulers, so to say, so to speak," he said.
Duterte said he only wants the people to know what he knows.
"If you want to believe in me, if you still believe me, I will tell you. But if you reject it, kung ayaw ninyong maniwala, ang masasabi ko lang bahala kayo, tutal (if you don't want to believe, then it's up to you anway) it's your country, it's not only mine, and kailangan may malaman kayo na alam ko (You just need to know what I know). Why? Because I am the President and I get all information from everybody and not only that, from personal experience," he said.
He said one of the candidates "really cannot be a president" while another candidate can be elected president, but is "too corrupt."
"Akala lang kasi ng mga tao malinis pero 'yung mga nag-transact sa business sa kanya, mga official business, pati yung mga Chinese nagreklamo na na masyadong corrupt daw (People thought that candidate is spotless but those businessmen who has had official transactions with this candidate, even the Chinese are complaining of being so much corrupt)," Duterte said.
"Sabi ko, ang magagawa ko (I said, all I can do) is to charge him for corruption (So I said that what I can do is charge him for corruption). It could be under the Revised Penal Code, or the Corrupt Practices Act," he added.
Duterte did not mention any name and emphasized that he is not looking for a fight, especially now that he is already retiring from politics.
"Pero (But) I feel that there are things which I would have to reveal to the Filipino people because it's my job, to tell the truth. Wala akong karapatan (I don't have the right) not even—I am not given a privilege of whatever for lying," Duterte said.
In a virtual Palace briefing, Acting Presidential Spokesperson, Cabinet Secretary Karlo Nograles, said Duterte knows the supposed issues about the presidential hopefuls because of his "wide array of sources of information."
"Bilang Pangulo ng Republika ng Pilipinas, siyempre marami po siyang mga (As President of the Republic of the Philippines, of course he has many) sources, vetted intel reports and other various sources at his disposal bilang Pangulo. So, abangan na lang po natin si Pangulo sa mga further pronouncement niya about that (as President. So, let's just wait the President for his further announcement about that)," Nograles said. (PNA)