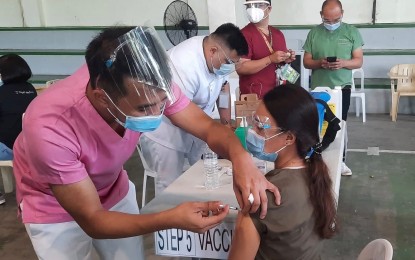 CEBU CITY – Majority of the patients tested positive for coronavirus disease 2019 (Covid-19) in this city since January 2 are either asymptomatic or mildly ill, the Emergency Operations Center (EOC) said Tuesday.
Dr. Carol Cajegas, a data analyst of the EOC, said during the Covid Task Force convergence meeting through Zoom that the data showed the difference between the vaccinated and the unvaccinated residents.
Cajegas reported that 2,800 of about 7,000 individuals who contracted the virus have not felt any indications of sickness while close to 4,000 people reported mild symptoms.
She said that most of those asymptomatic and mildly symptomatic patients were isolated at home, rendering most of the barangay patient care centers and other temporary treatment and monitoring facilities (TTMF) in the city vacant.
"It's clear what a vaccine can do against Covid. But we should not be negligent," Cajegas said.
The chief pathologist of the Department of Health (DOH) in Central Visayas, Dr. Mary Jean Loreche, supported the view that vaccinated individuals have relished the benefits of the vaccines as she also observed that most of the asymptomatic and mildly-ill Covid-19 patients are vaccinated.
Meanwhile, Mayor Michael Rama said the EOC will give medical kits to patients who would be isolated in the barangay patient care centers, TTMF and those who are in home isolation.
The mayor also said the city will purchase antigen test kits to be stationed at the Cebu City Medical Center to fast-track testing of patients, especially those who are still in the triage area. (PNA)