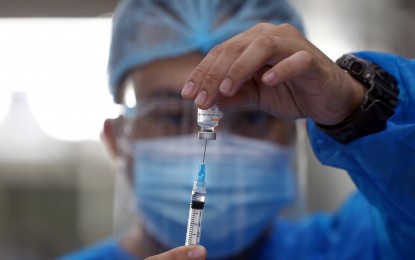 MANILA – The Qatar government is providing USD450,000 (approximately PHP23 million) to help the Philippines procure 50,000 doses of coronavirus vaccine, the Qatar Embassy in Manila announced Tuesday.
"The aim of the support is to provide additional 50,000 doses of Sinovac anti-Covid-19 vaccine for the cost of USD450,000, to the people of Philippines. The support comes as a continuation of Qatar's response to provide wider access to Covid-19 vaccine," it said in a statement.
"This assistance is an extension of Qatar's commitment to stand with the brotherly and friendly countries affected by the pandemic, by providing appropriate medical supplies to cope with the repercussions of Covid-19 and to provide health support to the people of the affected countries," it added.
Qatar Ambassador Dr. Ali bin Ibrahim Al-Malki said this latest support "comes within the framework of humanitarian action" and serves as a way to extend relief to the Filipino people hit hard by the pandemic.
Khalifa bin Jassim Al-Kuwari, director-general of Qatar Fund for Development, added that it affirms Qatar's "active role and efforts" in battling the pandemic as well as its position to assist "friendly and fraternal countries" like the Philippines overcome the global health crisis.
President Rodrigo Duterte's special envoy to the Gulf Cooperation Council (GCC) member states Amable Aguiluz V, meanwhile, extended the Philippines' gratitude to Doha and the Emir.
"The Philippines is very fortunate to be included by Qatar in its roster of friendly countries. Filipinos especially overseas Filipino workers have been treated fairly and have been beneficiaries of the benevolence of the Emir of Qatar, HH Sheikh Tamim bin Hamad Al-Thani," he said.
"This humanitarian gesture is a manifestation of strong diplomatic and friendly relations between the two nations," he added.
Doha and Manila will mark 41 years of diplomatic relations on May 5, 2022.
Earlier, Al-Malki said Qatar would continue exerting efforts to link the two countries closer, especially in the areas of energy, education, culture, and health.
The envoy said the two nations' four decades of bilateral relations are a testament to the "solid friendship" they have formed over the years. (PNA)