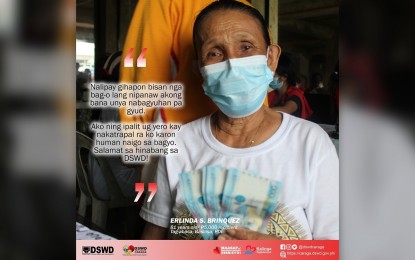 BUTUAN CITY – A total of 11,686 families affected by Typhoon Odette in Dinagat Islands in December last year have received cash aid from the Department of Social Welfare and Development in Caraga (DSWD-13).
In a statement Wednesday, the DSWD-13 said the affected families were given financial aid through their Assistance to Individuals in Crisis Situation (AICS) program.
"The province of Dinagat Islands is one of the severely affected areas of which houses were washed away by floods and heavy downpour leaving its inhabitants in distress," the DSWD-13 said.
The agency noted that all the 11,686 affected families had received PHP5,000 cash assistance each through the AICS program as of January 24.
It added that around PHP58 million AICS funds have so far been released to the distressed residents in the different towns of Dinagat.
A total of 980 families were served through the AICS program assistance in the town of Basilisa, 1,837 families in Dinagat, and 2,619 in the town of Libjo.
The DSWD-13 said 1,690 families were also aided in the town of Loreto, and another 1,363 and 3,1097 families in the municipalities of Tubajon and Cagdianao, respectively.
A beneficiary, Erlinda Brinquez, 81, of Barangay Tag-abaca, Basilisa expressed appreciation to the government for the financial aid she received.
"I am happy despite the death of my husband and the damages Typhoon Odette caused to my family. I will use the financial aid in the repair of my damaged house," Brinquez said in a statement quoted in the DSWD-13 report.
Another resident, Mansueto Dominisoc, 74, of Barangay Ferdinand, Basilisa said he will use the cash aid for the repair of his house and to buy food for his family.
"My house was washed out during the typhoon but I am thankful that I and my family members are still alive. Thank you DSWD for this financial assistance," Dominisoc said.
Assessment and accounting of severely damaged municipalities in the region are continuing for the coming provision of the AICS to affected families, the DSWD-13 said. (PNA)