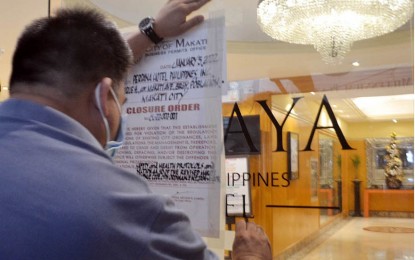 MANILA – The Department of Tourism (DOT) on Wednesday night confirmed that the suspension of the Berjaya Makati Hotel has been shortened from three months to two months, taking into consideration the hotel staff who would be affected by the temporary closure.
"The Department of Tourism has affirmed the suspension of the hotel's accreditation. However, upon Berjaya Makati Hotel's appeal, the initial three-month suspension period was reduced to two months," it said in a statement. "The DOT is sympathizing with the hotel's employees who will be directly impacted by this move, especially during this time of the pandemic."
The hotel was suspended after allowing Gwyneth Chua known as "Poblacion Girl", a traveler from the United States, to leave its premises while still undergoing mandatory quarantine in December last year.
Chua was seen at a bar in Poblacion, Makati and later tested positive for the coronavirus disease 2019 (Covid-19).
In a separate letter signed by DOT - National Capital Region officer in charge Sharlene Zabala-Batin on January 19, the department affirmed its order revoking the hotel's authority to operate as a multiple-use hotel (MUH), which permits establishments to accommodate both staycation guests and returning overseas Filipinos undergoing quarantine.
It also maintained Berjaya's PHP13,200 fine for violation of health and safety protocols.
Upon its return, Berjaya may operate as a quarantine hotel or apply for a new authority to operate as MUH, the DOT said.
It said the hotel management has committed to implement stricter measures to prevent similar occurrences in the future with the issuance of its "Enhanced Quarantine Procedures and Control". (PNA)