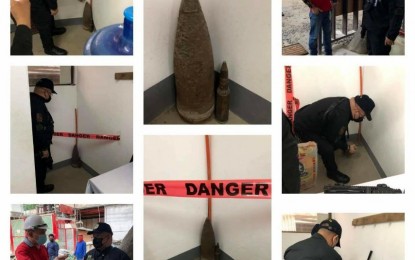 MANILA – Police recovered Wednesday two high-powered unexploded ordnance (UXO) or vintage bombs excavated last year at the parking lot of Bagong Ospital ng Maynila.
A Manila Police District (MPD) spot report said the bombs, a 105 mm high explosive projectile and a 50 mm anti-aircraft ammunition, were discovered on November 18 last year while workers were doing excavation work at the hospital parking lot located along Mabini Street.
The MPD said the project manager of construction firm Persan Construction Inc. and Frey-Fil Corporation, identified as Shiela Layese, failed to report to the authorities the discovery of the bombs.
On Wednesday, Rommel Panaligan, safety officer of the construction firm, noticed the bombs placed inside their office which prompted him to report the matter to the nearby Police Station 9 in Malate.
A team from MPD-Explosives and Ordinance Division (EOD) arrived at the construction firm's office and recovered the bombs. (PNA)