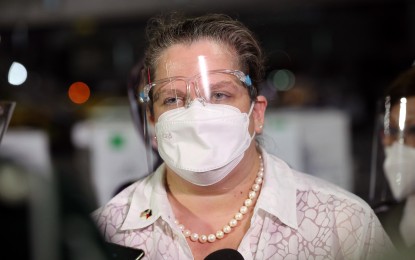 MANILA – The Philippines' sovereignty over the disputed South China Sea (SCS) is a "non-negotiable" part of the United States' thrust in the Indo-Pacific region, the US Embassy in Manila said Thursday.
"The US is a proud Indo-Pacific member and we will forge stronger connections with our treaty allies, including the Philippines to promote broad-based prosperity and security," US Embassy Chargé d'Affaires Heather Variava said, citing a recent policy speech by State Secretary Antony Blinken.
"Philippine sovereignty over its territorial waters in South China is a non-negotiable part of the US commitment to a free and open Indo-Pacific," she added.
She said Foreign Affairs Secretary Teodoro Locsin Jr. has been "very active in his diplomatic efforts" to make clear what the Philippine rights are in the region, and the US "certainly supports that".
"I think you saw our statement after the Whitsun Reef incident last March and again in the Ayungin Shoal incident in November. We are continuing to reiterate these statements and urging the People's Republic of China to respect the rights of the Philippines and other regions when it comes to this issue," she said.
In a recent State Department report, the US government said Beijing's maritime claims in the South China Sea "gravely undermine the rule of law in the oceans".
Variava underscored the US' readiness to work with the Philippines and other nations to "help support and bolster" the international rules-based order, and free and open use of the South China Sea.
China, the Philippines, and several other littoral states are locked in a territorial dispute over the South China Sea, where Beijing claims about 80 percent of the strategic water based on what it calls "historic rights".
At present, the parties are utilizing bilateral and multilateral means to tackle the issue, including negotiating on a Code of Conduct with other members of the Association of Southeast Asian Nations.
The Philippines and China convene regular Bilateral Consultation Mechanism (BCM) on the SCS, with the most recent virtually held in May 2021.
As the 2022 elections loom, Variava expressed confidence that any discussions between the next administration and other countries on the South China Sea would not weaken the Philippine-US alliance.
"As a sovereign country, it is expected that the Philippines will have discussions with other countries in the region in attempting to resolve the territorial disputes, those discussions will not weaken a longstanding alliance between the US and the Philippines which is proven time and again to be a bedrock of stability and prosperity in this region," she said.
She also reiterated that the US commitment to Philippine security is firm as she cited the PHP57 billion military assistance it has provided since 2015.
"The Philippines remains the largest recipient of military aid in the Indo-Pacific and this is a testament to our commitment to the Philippines and the peace and stability in this region," she said. (PNA)