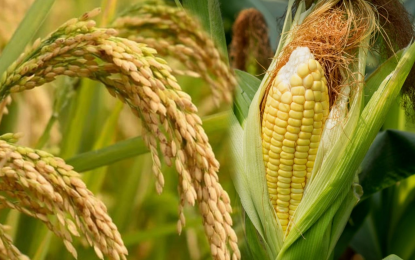 MANILA – Bigger budget, focused plans and interventions, and hardworking farmers and industry partners translate to record-breaking sectoral performance as the country's national palay (paddy rice) and corn production hit record levels at 19.96 million metric tons (MMT) and 8.3 MMT, respectively in 2021.
"These palay and corn production levels are the highest in the country's history under the Duterte administration. Thanks to our continued strong partnership with organized farmers' groups, local government units (LGUs), the private sector, other institutions, and rice and corn industry stakeholders," Agriculture Secretary William Dar said in a news release on Thursday.
The palay output was 3.4 percent higher than the 19.29 MMT in 2020, while corn yield was 2.2 percent better than two years ago, the feats attained despite the Covid-19 pandemic, community lockdowns and logistical bottlenecks, and adverse weather conditions, he said.
The record harvests were a result of more resources poured into both rice and corn programs, palay procurement, and irrigation services.
These include PHP15 billion for the national rice program (NRP) and rice resiliency project (RRP); PHP10 billion for the Rice Competitiveness Enhancement Fund (RCEF); PHP7 billion for the National Food Authority (NFA); and PHP30 billion for the National Irrigation Administration (NIA). As for corn program, the DA spent P1.5B last year.
"With better technology, modern high-yielding seeds, farm machinery and equipment, training, credit and marketing, the country's rice and corn farmers were able to deliver record-breaking performance," said Dionisio Alvindia, director of the DA's Philippine Integrated Rice Program (PIRP) that oversees the NRP, RRP, and RCEF.
Under the RCEF program that is in its third year of implementation, the following are the notable achievements, said Alvindia, based on survey of farmer-participants and monitoring conducted by the DA's Philippine Rice Research Institute (PhilRice(sad)
*For dry season 2019 and 2021, palay seeding rate decreased by one-third or 33 percent from 96 kilograms (kg) per hectare (ha) to 64 kg/ha;
*Average yield increased by 15 percent or 560 kg/ha, from 3.65 metric tons (MT) per hectare (ha) in 2019 to 4.22 mt/ha in 2021; and
*Due to the reduced cost of seeds and increased productivity, cost of production (COP) has decreased, and farmers earned additional gross income of PHP10,000/ha, at PHP19/kg dry palay buying price.
For farmers who plant hybrid rice, they attain bigger average yields and income per hectare, DA Hybrid Program Director Frisco Malabanan said.
He said hybrid rice farmers in Nueva Ecija obtained the highest average yield at 7.6 mt/ha in dry season 2021 and 5.75 mt/ha in wet season 2021.
In addition to Nueva Ecija, Malabanan said hybrid rice farming is now popular and focused in 14 other provinces: Ilocos Norte, Pangasinan, Cagayan Valley, Isabela, Tarlac, Occidental Mindoro, Oriental Mindoro, Palawan, Camarines Sur, Iloilo, Leyte, Bukidnon, Cotabato, and Sultan Kudarat.
Since 2019, the total area planted to hybrid rice has reached 1.1 million hectares, contributing roughly 26 percent to total palay production.
Malabanan said DA-PhilRice data show that current average cost of production (COP) of palay is at PHP12/kg, and that the COP of hybrid rice ranges only from PHP7to PHP8/kg. (PR)