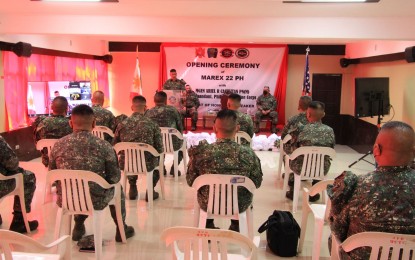 MANILA – The Marine Exercise 2022 Philippines (MAREX 22 PH) between the Philippines and the United States formally opened on Thursday, aimed at enhancing the capabilities of both sides.
MAREX 22 PH is a combined Philippine-US Marine Forces bilateral exercise that aims to develop the two services' in amphibious operations in support of counter-terrorism, internal security operations, and humanitarian assistance and disaster response (HADR).
"It will have simultaneous amphibious operation events in the Armed Forces of the Philippines' Western Command (Wescom) in Palawan and the Western Mindanao Command (Westmincom) joint areas of operation from January 27 to February 2," said PMC public affairs office chief, Maj. Emery Torre, in a statement Friday.
The opening ceremony of the exercises took place at the Philippine Marine Corps headquarters in Fort Bonifacio, Taguig City with PMC commandant Maj. Gen. Ariel R. Caculitan as keynote speaker.
All amphibious planning and executions will be in the Wescom area while all HADR and medical training exercises will be held in the Westmincom area with the participation of the provincial government of Tawi-Tawi.
Caculitan expressed his appreciation for the partnership with the US Marine Corps and underscored the importance of training to equip troops with better skills and knowledge and to achieve a smarter Marine Corps.
"We must continue to conduct relevant trainings that will improve our individual and collective capabilities. MAREX is joined by our foreign counterpart and our major ally, the United States Marine Corps, that has long been training with us and sharing with us the duty to preserve regional peace and security," Caculitan said.
Meanwhile, Col. James Lively, commanding officer of the US Marine Corp's 11th Marine Expeditionary Unit, said their goal is to "successfully integrate our forces during planning and execution to conduct a full-scale expeditionary amphibious operation, side-by-side with our Filipino partners."
"Marine Exercise 2022 Philippines will further strengthen our commitment in the Indo-Pacific region as well as be a memorable experience for our Marines and sailors," he added. (PNA)