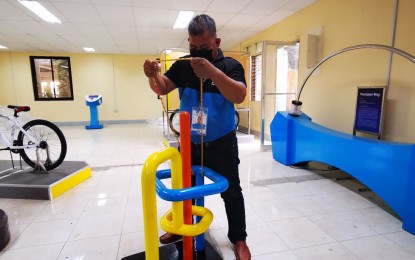 MANILA – The first Science Centrum in Region 4-B (Mimaropa) is ready for use although it is not yet open to the public, an official of the Department of Science and Technology (DOST) said on Friday.
The PHP5-million Science Centrum, located within the Marinduque State College, showcases 35 interactive exhibits that include science facts, principles, and concepts that can be easier understood by the public.

"It is not yet open even if it is ready (for use) because of the pandemic. It could be a Covid (virus) spreader," DOST-Mimaropa Director Josefina Abilay said. "A science centrum promotes the culture of science through appreciation of concepts that one could learn there. Hopefully, this would entice more (people) to enroll in STEM (science, technology, engineering, mathematics) and take S&T courses. S&T is the foundation of socio-economic progress as manifested by developed countries."
She expressed hope that Mimaropa residents would visit the Science Centrum once it opens its doors to the public.
The facility can be accessed for a fee which will be used to maintain the exhibits, explainer's fee, among others, Abilay said.

Earlier in a taped report, DOST Secretary Fortunato de la Peña said the Science Centrum "will provide an informal yet exciting and stimulating learning environment for the youth to ignite their interest in pursuing S&T". The exhibits were curated with assistance from the Philippine Foundation for Science and Technology, he added.

The facility also houses two units of the DOST-developed STARBOOKS (Science and Technology Academic and Research-Based Openly Operated Kiosk Stations) that can provide visitors access to thousands of digitized S&T resources in various formats. STARBOOKS can be used by students, teachers even without an internet connection. (PNA)