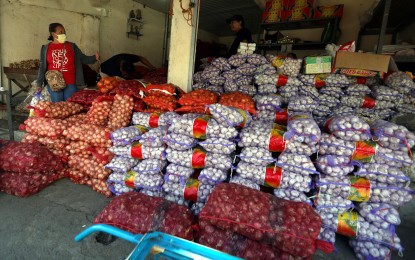 MANILA – The Department of Trade and Industry (DTI) has responded anew to the concerns raised by some farmer groups regarding the country's participation in the Regional Comprehensive Economic Partnership (RCEP).
In a statement Friday, Trade Secretary Ramon Lopez said the RCEP excludes highly sensitive agricultural products from zero tariffs including swine and poultry meats, potatoes, onions, garlic, cabbages, sugar, carrots, and rice.
Cement, flat-rolled products of iron or non-alloy steel, among others, are also exempted from tariff liberalization.
Lopez added that RCEP also provides safety nets and flexibilities "to address any threats to industries that may arise" amid the free trade agreement (FTA).
The DTI said trade remedies such as anti-dumping and countervailing measures under the World Trade Organization (WTO) will still be in place to protect these highly sensitive sectors from the influx of imports.
Lopez said RCEP also has its own transitional safeguard mechanism that allows participating countries "to suspend further reduction of customs duties or increase customs duties following a surge in imports".
"In other words, issues and concerns of some group of farmers are fully addressed," he said.
He said RCEP is also aligned with the administration's current economic reforms and policy direction.
"The Philippine economy is already well integrated into the global economy. Not joining RCEP will be catastrophic in terms of trade and investments. The signal to the country's trading partners and would-be investors is negative as it conveys that the Philippines is embracing an inward policy, not to say protectionist stance," he said.
DTI Assistant Secretary Allan Gepty, who is also the country's negotiator for RCEP, said the trade agreement will not bring huge disruption, especially market competition, as local industries have been competing with foreign players since the country became a member of WTO and other trade agreements.
He said under RCEP, the Philippines will have a comprehensive trade deal with nations that the country already has trade agreement with such as Asean member states and FTA with Australia, New Zealand, China, Japan, and South Korea through Asean.
"In other words, in terms of competition the same is not totally new. If there is something new in RCEP it is more of coverage of the free trade area and the rules and disciplines," Gepty said.
Gepty also urged local industries including the agricultural sector to look at RCEP as a "platform of more and bigger opportunities" with the agreement's improved market access, cheaper access to raw materials, trade facilitative measures, and opportunity to attract investments in smart agriculture and research and development. (PNA)