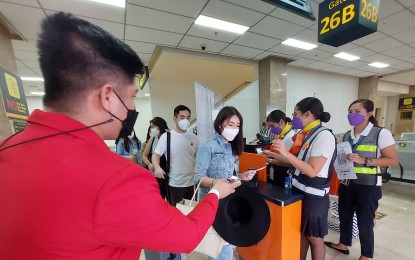 CEBU CITY – Aside from proofs of vaccination, all inbound international passengers at Mactan-Cebu International Airport (MCIA) starting February 1 must present negative results of reverse transcription-polymerase chain reaction (RT-PCR) tests taken within 48 hours before departing the country of origin.
The memo released Friday will apply to Filipinos and foreigners alike.
A passenger who is unvaccinated, partially vaccinated, or whose vaccination cannot be validated must also have a negative RT-PCR test result, will be swabbed upon arrival, and must stay in a quarantine facility until the release of the second test taken on the fifth day after arrival.
"Airline operators are enjoined to require international passengers traveling to Cebu to present proofs of their full vaccination from their place of origin upon check-in. Absence of said proof shall classify the traveler as unvaccinated or partially unvaccinated," said the memorandum issued by Governor Gwendolyn Garcia.
As of Friday, Central Visayas has 46 Omicron variant cases after just 22 last week.
Of the region's 18,065 active Covid-19 infections, 4,185 are in Cebu province after the addition of 345 new cases.
Among highly urbanized cities, Cebu has the most active cases with 7,777.
The region registered a 43-percent positivity rate on Friday after the detection of 1,376 new cases out of 3,164 tests done in 15 molecular laboratories.
Chief pathologist Dr. Mary Jean Loreche of the Department of Health Region 7 noted in a statement that despite the surge, hospitals maintained low occupancy rates as most of the patients are either asymptomatic or just mildly ill.
She advised those experiencing cough, colds, and fever to isolate even if they are at home.
"Go to your LGU (local government unit) and register for vaccine. There's no other way to end this pandemic, except through immunity," she said. (PNA)