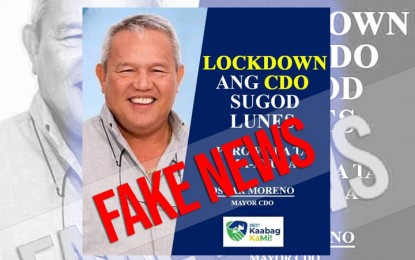 CAGAYAN DE ORO CITY -The local government here on Saturday debunked another disinformation attempt about a looming "lockdown" due to the spike in coronavirus disease 2019 (Covid-19) cases.
Dr. Ted Yu Jr., medical officer of the City Health Office (CHO), in a daily presser urged residents to stop spreading wrong information and instead rely only on official sources like the CHO and the City Information Office.
He said the city government will continue the daily virtual presser to provide updates on the measures to stop the spread of the virus.
"There are some who are making fake news that city Mayor Oscar Moreno will implement a lockdown. They spread fake news. That is why we are here daily in our press conference to give you relevant and true information," he said.
This was not the first time the city had to deal with disinformation and misinformation since the pandemic started in March 2020.
On January 14, the city was placed under Alert Level 3 by the national Inter-agency Task Force (IATF) due to the rise in Covid-19 cases. The alert level will last until the end of the month.
The city government on Friday reported 181 new Covid-19 cases, bringing the total to 23,042 cases, of which 2,121 are active, 20,049 are already recovered, and 872 have died.
Moreno also commended the city's Covid-19 vaccination team for doing a great job on the vaccination rollout, as part of the city's measure to fight the spread of the virus.
As of January 28, a total of 552,923 individuals or 96.34 percent of the city's target population have already been vaccinated.
Moreno said the city's health care utilization rate and bed utilization capacity are already being affected by the rise in cases.
"This is due to the cases outside the city and yet it's the city that bears the brunt (of a higher alert level). I hope that Northern Mindanao Medical Center (NMMC) finds a solution to help the city," he said.
Moreno said the city might be upgraded to a higher alert level once the IATF sees the latest Covid-19 figures in the city.
Dr. Gina Itchon, NMMC research and development department chief, echoed Moreno's assessment.
"Cagayan de Oro City's predicament is also the same problem faced by highly urbanized cities (where government regional hospitals are located). It doesn't seem fair that just because we're accepting patients from outside the city that the city will be penalized with a higher alert level (because of outside patients)," she said. (PNA)