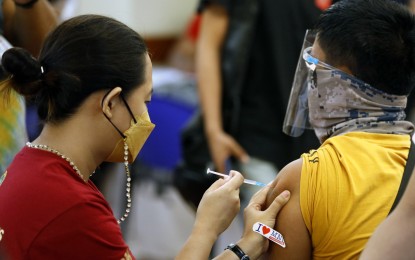 MANILA – With the easing of travel restrictions and lowering of alert level in Metro Manila and other parts of the country, balancing health and economy will be possible by continuing the vaccination drive against coronavirus disease 2019 (Covid-19), an adviser to the President said.
During the Laging Handa public briefing Monday, Presidential Adviser for Entrepreneurship Joey Concepcion said the government should strengthen its vaccination program in Visayas and Mindanao as well as other parts of Luzon to achieve at least 70 to 80-percent vaccination rate in these areas.
This will give Filipinos the protection from getting severe Covid-19 cases and will help in avoiding congestion of healthcare facilities, said Concepcion, who is also the founder of Go Negosyo.
"Without getting immunity then the threat will always come back. So we make sure that our protection through vaccination should be there," he added.
Starting February 1, Metro Manila, Batanes, Bulacan, Cavite, Rizal, Biliran, Southern Leyte, and Basilan will be placed under Alert Level 2.
The eased travel restrictions, in which facility-based quarantine is lifted, for international arrivals will also begin Tuesday.
Concepcion said overseas Filipinos and foreign nationals who would like to travel in the Philippines for business or leisure were glad about this move of the government.
"Many would like to enter (our country) as we come close to March. (It's) summer period, many tourists will visit our different islands. So it will open up and will help our small and micro entrepreneurs," he said.
Concepcion said this decision of the Inter-Agency Task Force for the Management of Emerging Infectious Disease (IATF) to ease travel rules will help in the recovery of the tourism sector, especially in Typhoon Odette-hit areas in Visayas and Mindanao.
This would also support the country's economic growth for the last two quarters of the Duterte administration, he said.
"We want to turn over the economy in a healthy state, not sick with Covid. That is our objective in the private sector. And hopefully, it will continue to be that way. So we're looking at a good first quarter and hopefully a great second quarter," he added. (PNA)