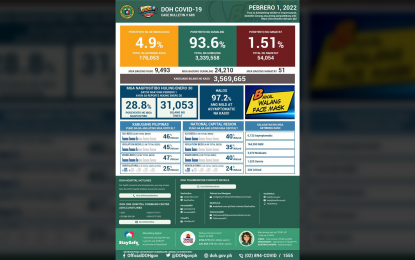 MANILA – The Department of Health (DOH) on Tuesday reported 9,493 new cases of Covid-19, a significant drop from the previous 14,546 daily infections.
In its daily Covid-19 bulletin, the DOH said active cases are now down to 176,053, compared to Monday's 190,818.
Of the active cases, 164,995 have mild symptoms, 6,133 are asymptomatic, 3,070 moderate symptoms, 1,529 with severe symptoms, and 326 in critical condition.
The DOH also logged 24,210 new recoveries, bringing the country's tally to 3,339,558 or 93.6 percent of all confirmed infections since the pandemic started in March 2020.
It reported 51 new deaths, lower than Monday's 112, with the country's total at 54,054 or 1.51 percent of all reported cases.
Based on the latest testing data, there were 31,053 Covid-19 tests administered on Sunday with a positivity rate of 28.8 percent.
To date, there are 3,800 beds at intensive care units (ICU) all over the country at 46 percent occupancy, 21,000 isolation beds at 45 percent occupancy, 15,900 ward beds at 47 percent occupancy, and 25 percent of 3,100 ventilators are in use.
In the National Capital Region alone, there are 1,300 ICU beds at 40 percent occupancy, 4,800 isolation beds at 35 percent occupancy, 4,300 ward beds at 40 percent occupancy, and 24 percent of 1,000 ventilators are in use. (PNA)