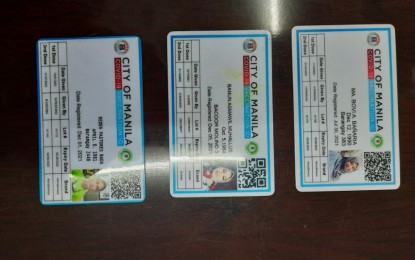 MANILA – The Manila Police District (MPD) has arrested three suspects involved in the production of bogus coronavirus disease 2019 (Covid-19) vaccination cards.
A police report issued Wednesday identified the suspects as Rafael Cayabyab, 41, owner of Lakay Printing Services; Ricardo Lugtu, 25, graphic artist; and Samil Asmadi, 23, all residents of Manila.
The suspects were arrested in an operation in Quiapo district on Tuesday, when a policeman posed as buyer of a fake vaccine card, handing over PHP500 to Lugtu.
During the operation, several other fake vaccination cards sold for PHP500 each were confiscated from Cayabyab and Asmadi. Also seized from them were a laptop computer and a printer.
The suspects are under the custody of MPD Police Station 4 and will be referred for an inquest proceeding.
Earlier, the Philippine National Police warned that persons found faking or using a fake Covid-19 vaccination card may be charged, fined, or imprisoned.
Penalties include a fine of between PHP20,000 to PHP50,000, or imprisonment of one to six months, or both.
In January, different local government units limited the movement of individuals who are still unvaccinated against Covid-19 due to the spike in coronavirus cases due to the highly transmissible Omicron variant.
At that time, several persons were caught using fake vaccination cards.
The PNP said they have access to an electronic verification system wherein they could check if a person is vaccinated or not. (PNA)