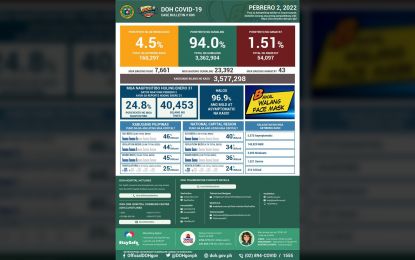 MANILA – The Department of Health (DOH) on Wednesday reported 7,661 new coronavirus infections nationwide, another drop in the number of cases from Tuesday's 9,493.
In its daily Covid-19 bulletin, the DOH said active cases have further dropped to 160,297 from Tuesday's 176,053.
Of these active cases, 149,829 have mild symptoms, followed by the asymptomatic at 5,575, those with moderate symptoms at 3,056, those with severe symptoms at 1,521, and those in critical condition at 316.
It reported 23,392 new recoveries, a slight reduction from Tuesday's 24,210, and recorded 43 new deaths, lower than Tuesday's 51.
Based on the latest data on Covid-19 testing, there were 40,453 persons tested for Covid-19 on Monday, with 24.8 percent found positive for the disease.
To date, the 3,800 beds at intensive care units (ICU) in the whole country are at 46 percent occupancy; 20,800 isolation beds at 44 percent occupancy; 15,600 ward beds at 45 percent occupancy; and 25 percent of 3,100 ventilators are currently in use.
In the National Capital Region, the 1,300 ICU beds are at 40 percent occupancy; 4,700 isolation beds at 34 percent occupancy; 4,300 ward beds at 36 percent occupancy; and 24 percent of 1,000 ventilators are in use. (PNA)