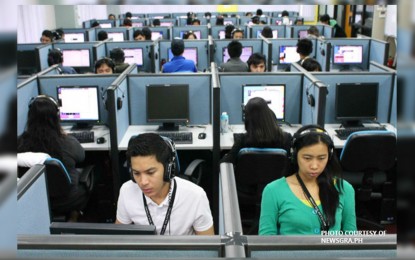 MANILA – Philippine office demand will continue to grow driven by information technology-business process management (IT-BPM) firms despite challenges posed by coronavirus disease 2019 (Covid-19) variant Omicron, according to a real estate brokerage services firm.
"Omicron has affected only office expansion timelines but not the business confidence of IT-BPMs and other firms in the country," LPC director for commercial leasing Mikko Barranda said Thursday during the Philippines Real-Estate Outlook for 2022 online event with NordCham Philippines.
With the easing of quarantine restrictions and more mobility, Barranda said he expects these transactions to speed up now that key decision makers based outside the Philippines can travel more freely in the country.
At the end of 2021, live requirements likely to be concluded within 1H 2022 was a significant 224,000 square meters.
LPC said the workplace and key business districts will remain key economic centers even if work-from-home (WFH) arrangements were prevalent last year.
Omicron merely pushed back the plans of many firms to ask their employees to gradually return to the workplace, it said.
"Office contractions remain at their lowest. We are seeing tenants renew leases in anticipation of recovery," Barranda added.
The work disruptions experienced by many in the Visayas in the aftermath of Typhoon Odette in December highlighted the importance of fully-equipped workplaces. Massive power outages left scores of employees working from home unable to function. Thus, IT-BPMs and other firms in Cebu scrambled for the few fitted office spaces available to keep operating.
"Although many firms will continue to adopt a hybrid set-up allowing some to work from home, (the) majority still recognize that workplaces in business districts offer redundancy," Barranda said.
IT-BPMs, in particular, highly value work spaces that offer back-up systems in case power, connectivity and other systems go on the blink.
LPC maintains its view that the Philippines remains a highly attractive destination for firms in the West now on the road to recovery.
It continues to receive inquiries from firms in the West, many of them captives from industries ranging from healthcare to technology to financial services and directly doing business in the country for the first time. A number of them also prefer to locate provincial hubs, such as Bohol and Dumaguete. (PR)