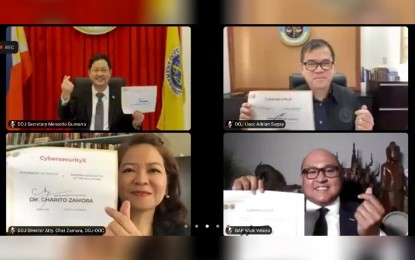 MANILA – Policies and laws against cybercriminals are seen to improve following the closer collaboration between the Bankers Association of the Philippines (BAP) and the Department of Justice (DOJ).
During the virtual memorandum of understanding (MOU) signing ceremony on Friday, BAP cybersecurity committee vice chair Ramon Jocson, who is also Bank of the Philippine Islands chief operating officer, said cybercrimes "sometimes stretches the law" given how criminals have leveraged technology to do their illegal activities.
"As such, it requires dialogue between us and the government primarily, apart from law enforcement, it's the Department of Justice because it's really (the) interpretation of the law. And if we do catch these criminals what happens next," he said.
Under the agreement, the BAP and the DOJ will conduct information campaigns, events, and activities like free learning sessions to discuss the latest trends and developments on cybersecurity.
Jocson said information sharing is also under the pact with the Justice Department "so we can see the patterns" of cybercrimes and for the eventual prosecution of the people involved.
"By providing them with information this can be the basis for future legislation. So it is really the nature of the crime and the way technology affects this crime that it constantly transforms itself that requires this dialogue," he said.
During the same briefing, BAP President Wick Veloso, who is also the President and Chief Executive President of the Philippine National Bank, said the MOU is aimed at strengthening the banking sector's cyber-resilience and having a more collaborative team-up with the DOJ.
"In as much as we advocate for public awareness on cyber safety, we firmly believe that cybersecurity is not just about educating the public and encouraging them to participate, but is also about holding cybercriminals responsible for their acts which endanger others. This is the importance of working together with key government institutions for the benefit of the public," he said.
The Bangko Sentral ng Pilipinas earlier said cybercrimes rose exponentially during the pandemic and its cost to both the banking sector and the public has reached more than PHP1 billion. (PNA)